Montemayor: Another memorable spring sports season in the books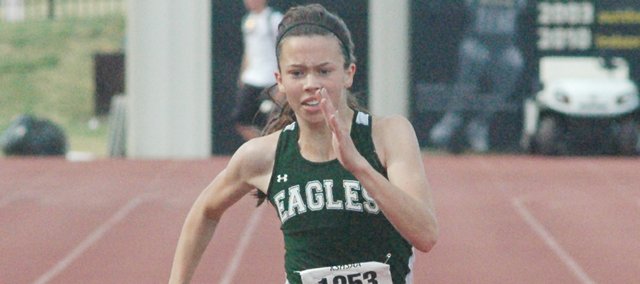 Spring began with the first of Shawnee Mission Northwest junior Katt Cooper's many, many strikeouts and ended with Mill Valley senior goalkeeper Rayanna Gossett hugging her mom and showing off battle scars one last time.
On a track in Wichita and a baseball diamond in Salina, two teams repeated state championships. School (and state) records fell. Personal bests were achieved. In all, another special Shawnee spring sports season continued to affirm our student athlete's capacities to amaze.
It truly was a blink-and-you-missed-it kind of year. Nary a night passed without a local team putting together an impressive performance, be it home or away. The season's end, and summer's approaching onset, allow for a needed taking into account of all that transpired. Considering the city's size and scope, that's a large pool of athletes and their accomplishments.
Any 2012 Shawnee spring sports season in review must begin with Mill Valley, still, like St. James Academy, a relatively new kid on the block, yet one that is steadily building an impressive resume.
This year, all six of Mill Valley's spring sports teams advanced to state competition. Every single team. The Jaguars' girls soccer team led the way with its finest finish in program history, runners-up to St. Thomas Aquinas in the 5A state soccer tournament. Mill Valley's 18-2 record was bolstered by a host of dizzying numbers: a 17-game winning streak, 10 consecutive shutouts, a 125-10 goals forced vs. goals allowed ratio.
The team spirit was alive and well at 3&2 Ballpark this year as Mill Valley's baseball and softball teams also strung together impressive winning streaks en route to league and regional titles. Although they each didn't have as deep of a postseason run, they also saw contributions from underclassmen pave the way for progress. All signs point to continued success for the Jaguars girls soccer, baseball and softball programs for years to come.
It's hard to believe that Emily Brigham will come back next year. The Mill Valley junior accomplished what no Kansas girl pole-vaulter ever had when she (twice) stuck vaults of 13 feet this season. With the state's top mark — and a state title — in the long jump, Brigham turned heads in her penultimate year. Though she didn't claim the state pole vault championship at this year's meet, we've seen how high she's capable of soaring next year, and it's beyond the reach of her competition.
•••
It isn't easy to win a state track and field title as a team, as SM Northwest coach Mike Cooper can attest. But winning two in a row, as the Cougars' boys team did? That's pretty special.
Seniors Blake Evans, Luke Schnefke, Jackson Barbour and David Fancher secured a second-straight title by placing ahead of Olathe East in the 4-x-400-meter relay on May 26 in Wichita. The championship concluded a year in which Cameron Bock broke a school record in the pole vault, Amy Hein set herself up for an impressive senior year in the same event and Eric Pinkleman ended his SM Northwest career with one of the state's top throws in the javelin.
Although they didn't reach state, the SM Northwest softball and baseball teams had strong showings in the Sunflower League, with the baseball team capturing the league crown this year. The Cougars clinched a share of the league title on the regular season's final day, and did so with the help of a multidimensional crop of players. Senior Chase Rader received All-Sunflower League first-team honors (full list to be published next week) both as a pitcher and as a shortstop. Senior Ty Thompson was also recognized on the second team both as a pitcher and as a designated hitter.
As far as strikeouts were concerned, it wasn't even close this year in Sunflower League softball. Junior Katt Cooper ended the year with 128 strikeouts, or 36 more than the next highest total. At 12-8 on the year, the Cougars have room to grow. With Cooper returning, it will be hard not to reach another level in 2013.
The Cougar community bid farewell to one of the golf program's most decorated athletes. Senior Jackson Foth ended his career by placing second overall in the 6A tournament and led SM Northwest to a fourth-place finish. The performance began a state tournament season in which the Cougars' youth-laden swim and dive team continued making strides and the boys tennis squad strung together multiple upsets on the sport's biggest stage.
•••
17-0 in three innings. That's how the 4A boys baseball state championship game was decided. St. James Academy entered the Salina tournament seeded seventh. It returned home having left no doubt as to its place among the state's top baseball programs.
Brian Bucklin's team hit the ball at a torrid pace after a year of steady pitching carried it back to the big stage. The Thunder's hot bats meant that senior Matt Eckleman would only have to pitch four innings in the tournament to end his career with another title.
Jess Buie (6-1, 47 strikeouts), Cydney Barrick (8-5 as a pitcher, .378 batting average, 28 RBIs), Kristin Lock (six home runs) and Caroline Lipp (42 hits) were among those that comprised a deep Thunder softball squad. The Thunder (16-7) fell to De Soto in the 4A regional final, after a season in which St. James saw its fair share of nailbiters.
One of the school's most surprising stories came from the girls soccer team, which entered the 4A state tournament with a 6-11 record. That mark would prove deceptive as the Thunder advanced to the tournament's third-place game, where it dispatched Tonganoxie, 8-0, to grab an unlikely third-place trophy.
The previous night, penalty kicks prevented St. James from reaching the championship final. There's no telling what's in store for next season.
•••
Need a breather yet?
But we haven't even gotten to SM North senior Keenan Smith's fourth-place boys tennis finish.
Or Whitney Harvey's impressive third-place showing in the discus at the state track meet. The Indians' baseball team, despite entering regionals at 5-15, turned heads when it upended No. 4 SM East in the tournament's first-round.
And go ahead and remember the names Caroline Bingham, Lauren Harrell, Hope Manning, Katherine Smith and Taylor Morrow. Those are the girls who, as freshman, led Maranatha's girls track and field team to a 2A state championship. As freshmen. Something tells me this isn't the last we've heard from them.
It was quite a season, to be sure. But around here, when is it not something to write home about?
Next year we'll welcome back familiar faces while coaches usher in the next crop of stars.
Old school records will tremble in anticipation of their looming demise. Trophy space will become all the more precious.
After all, Mill Valley's adding a swim team next year.
Join the conversation by tweeting #ShawneeSports or send photos of your own to smontemayor@theworldco.info.
More like this story