Search for birth mother has happy ending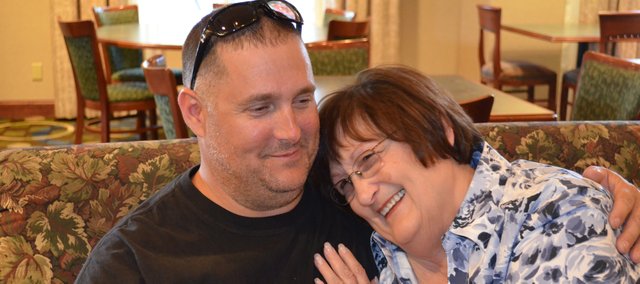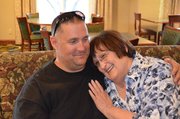 David Hattaway, a 45-year-old Shawnee resident, started looking for his birth mother six years ago, when his family was dealing with some health issues.
The court system in Jackson County, Mo., where his adoption was finalized, responded with some non-identifying information that proved too sketchy to be of value.
The health issues eventually passed. And then Hattaway realized something else was driving his search for his mother.
"I felt something was missing out of my life," he said.
In February, Hattaway finally learned, through a letter from his mother, that she had felt the same way — for 45 years.
"I don't have much memory of the first four years; I just shut down," Hattaway's mother, Paula Alwin, said recently. "It's been the most painful situation in my life."
By contrast, the past few months have been the most joyous, she said. Though she now lives in Gatesville, Texas, Alwin and Hattaway have seen each other on three occasions since early May. And each time, Alwin has embraced her son — just as she did in the nursery at a home for unwed mothers during the first three days of his life.
Kansas agencies aid in searches
For Kansas-born adult adoptees wishing to learn a birth parent's identity and, perhaps, establish contact, the journey begins at the state's Office of Vital Statistics.
To obtain a pre-adoption birth certificate, adoptees 18 and older can go to kdheks.gov/vital, click on the "adoption" link, then click "Obtaining a Before Adoption Birth Certificate."
The next step is the Kansas Department of Social and Rehabilitation Services, which can be contacted online at srs.ks.gov. To obtain a form titled Adult Adoptee Searching for Birth Parents, click on the "Services" tab, click "Adoption Services," then click the "Children and Family Services" link. That will open a page allowing the user to select "Adoption Records and Search," which leads to online forms for adult adoptees seeking birth parents or siblings. A form for birth parents requesting contact with adult adoptees is also available.
Patricia Long, an SRS program administrator, said her office processes the forms, searches for adoption records and provides them to the adult adoptees requesting them. The agency also will conduct free searches for birth parents and for adult birth siblings the adoptee had an established relationship with prior to the adoption.
With approval of the birth parents and siblings, the agency also will provide current contact information to the adoptee. It also facilitates reunions when requested.
"I whispered a lifetime of 'I love yous' in his ears during those three days," Alwin said. "And it's almost like time stood still. I love him and he loves me."
The mother-and-son reunion might have taken place earlier. But until August 2011, Missouri law required adopted adults seeking the identity of birth parents to get their adoptive parents' permission or prove they were deceased. And out of respect, Hattaway waited for his remaining adoptive parent's death, his father's, last June.
Six months later, Hattaway asked the Jackson County Circuit Court to authorize a court-approved intermediary to search for his mother and ask: Would she allow her identity to be disclosed to her son? Did she want to make contact with him? And, if so, to what degree?
For a $350 fee, Laura Long of Adoption Search Services found Hattaway's mother in Texas and mediated a level of contact agreeable to both parties.
It started with letters, which, by law, could not include identifying information until the court received Alwin's permission and officially approved disclosure of her identity. That happened on April 19, and a day later, Hattaway spoke to his mother by phone for the first time.
Then, a couple of weeks later, Alwin and her husband, Larry, drove up to meet her son and his family. Hattaway and his wife, Lisa, have five children — Alwin's grandchildren. And the oldest has two children of her own, "meaning I'm a great-grandmother," Alwin said.
"I had butterflies on the way up to see them," Alwin said. "But when Larry opened the (motel room) door, David just fell into my arms. He was just my son, and loving my son has brought out this motherly love that has just been profound. I have all these happy tears."
According to Alwin, she was 20 years old, single and living in Independence, Mo., when she became pregnant with Hattaway. The father didn't stick around, she said, and her parents took her to a minister, who recommended adoption.
Such advice wasn't questioned in those days, Alwin said. So she checked into a Florence Crittenton maternity home in Kansas City. And a few days after her baby was born, she stood before the judge who approved the adoption.
"I remember him pointing a finger and saying sternly that this was final. The file would be sealed forever, and I would never, ever be reunited with him," Alwin said.
So she was surprised when a letter from Laura Long, the search intermediary, arrived early this year.
"I knew people were being reunited," Alwin said. "But I didn't know how that worked, and I didn't think it would happen for us. But God has had his hand upon all of this."
Alwin, 66, has been active with her husband in a prison ministry since 1996. Before that, they worked for the Chevron Corp., which transferred them from Johnson County to Texas. Larry Alwin had two children when they married. But Paula Alwin never had a second child.
Before her husband found Alwin, Lisa Hattaway said, "there was always a dark place in his heart." Now he's a totally different person, "happier," she said.
Hattaway realizes not all birth-parent searches end happily. Maybe his did because he and Alwin are so alike, he said.
Besides looking alike, they have similar senses of humor and sentimental streaks, said Hattaway, who traveled to Texas to surprise Alwin on Mother's Day. They also share a favorite song, "Puff the Magic Dragon."
Hattaway could never figure out why he'd always liked that song so much. But after reading one of his mother's first letters, he knew. According to the letter, she had sung it to him, over and over, during those three days in the nursery.