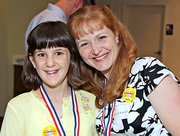 Three Shawnee residents, including a couple who lightened a neighbor's cancer burden and a Girl Scout leader, are among 21 winners of 2012 Kindest Kansas Citian Awards.
Dave and Marcia Mielke and Michelle Schmidt received their awards during a May 11 dinner sponsored by Synergy Services, a Parkville, Mo.-based organization dedicated to preventing abuse and violence. The dinner culminated in an essay contest in which students were invited to nominate and write about individuals who have touched them with kindness.
Kira McDaniel, a seventh-grader at Westridge Middle School, nominated the Mielkes, who are Kira's neighbors.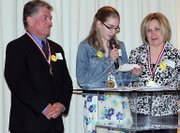 "Two summers ago, my dad was diagnosed with cancer," Kira wrote. "He couldn't mow the lawn or do yard work. My neighbors, the Mielkes, did the mowing and the yard work for him. We didn't ask them to, but they did it anyway.
"A few months after my dad was diagnosed, my family started running low on money to pay for his treatment. This worried me because I didn't want to lose my dad. My neighbors heard of this and had a Krispy Cream doughnut fundraiser. The Mielkes raised up to $2,000 for my dad's treatment. Ever since then, the Mielkes have been the kindest people I know. They saved my dad's life."
Grace Altenhofen, a fifth-grader at Bluejacket-Flint Elementary, nominated Michelle Schmidt, Grace's Girl Scout troop leader for two years.
"During that time, I have learned that each person can make a difference in the lives of other people," Grace wrote. "At our troop meetings, she treats us with respect, encourages us to appreciate people different from ourselves and think about how we fit into the big world around us ..."
"The best project we've done this year was to provide Christmas gifts for a homeless child. The troop earned money by doing extra chores at home. Mrs. Schmidt gave up half her Sunday to supervise a shopping trip so we could buy the most gifts for our money for the child."