Where good starts and ends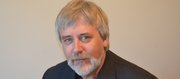 Like Rip Van Winkle, I've got the beard now and have been away quite some time.
But unlike the Catskills community Rip wandered away from before his 20-year nap, the Shawnee I've just reawakened to remains oddly recognizable.
For those who didn't know me in my past life here, allow me to introduce myself: I'm the new editor of The Dispatch and former editor/publisher of the now-defunct Shawnee Journal-Herald.
I started my career with that paper in June 1980, and my first assignment was to cover the Old Shawnee Days Parade. I'll never forget showing up in a three-piece suit that sweltering morning, prompting my boss, Bill Shippee, to scratch his head over his new hire. But I survived that and other rookie blunders. And after three years, I and my ex-wife Rachel bought the paper.
Between 1983 and 1993, when we sold it, we tripled the paper's circulation and expanded coverage from one city to five, prompting a name change to The Journal Herald. But more importantly, we raised two sons in that little newspaper office, while making hundreds of friends and memories.
Then Rachel and I went separate ways. I wanted to work for a daily and ended up at the Junction City Daily Union, the Lawrence Journal-World and Olathe Daily News. Then, after coming back to the declining Journal Herald briefly in 2000, I moved on to Sun Publications, the Kansas City Business Journal and a couple of other stops.
Meanwhile, The World Company was building a solid community newspaper in Shawnee, which I have sorely missed. So when I heard the editor's post at The Dispatch was opening up recently, I applied. Then, as if waking from a long dream, I was home.
All those old memories came rushing back — from Ed Stern swatting flies in his restaurant window to Mayor Soetaert blowing a gasket over rookie Councilman Les Edvalds' vote to kill the dog track. And as I probed long-unused recesses of my brain, I realized I could still spell local family names like VanNieuwenhuyse and find my way to all the old haunts.
But what good, I wondered, would that do me now? Old institutions from Stern's Restaurant to Zarda Dairy were gone, I noticed. And most of the pillars of the community I'd known likely had faded away, too, I figured.
Then I heard Evelyn VanKemseke, Shawnee's Mother Teresa, was not only still running Shawnee Community Services but preparing to break ground on a new building. And when I went to City Hall, I saw the whole gang — from planning director Paul Chaffee to city attorney Marvin Rainey — remained intact.
In addition, I discovered, Joe and JoAnn Mayo were still roaring with the Shawnee Lions, a Pflumm was still active in local banking, Donovan's Service (minus the Pegasus logo) was still fixing cars, and Hartman Hardware was still sharpening mower blades and selling the world's best chili powder.
All that made me ponder Shawnee's motto: Good Starts Here. It seems to me that a lot of good gets better here, too, and sticks around to the end.