SMNW

's Jessica Johnson departs a winner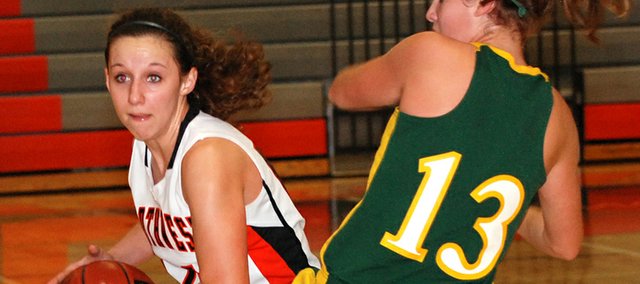 With many athletes specializing from early ages now, it's rare to see a player excel in more than one area of athletic achievement, especially throughout a high school career.
Shawnee Mission Northwest's Jessica Johnson never wavered from her commitment to cross-country, basketball and soccer during her four-year stint, lettering in all 12 seasons as a Cougar.
"It really isn't a burden to me because this is what I love to do," Johnson said. "Most of the time it was just whatever season I was in. I was into the moment and working hard in whatever spot I was in."
Johnson never steered away from her mission to provide a consistent, calm work ethic, something that isn't seen in all young ladies her age.
Johnson said her teammates would come up to her during events as they first got to know her and would asked if she was pumped up for a game or a cross-country meet. Every time she would shake her head calmly and say to herself that she was ready to work hard.
Discovering cross-country
When Johnson arrived at SM Northwest, she didn't have a clue about what cross-country would mean to her.
But by the end of her junior year, she realized, along with her teammates, that a state team title could be in their sights.
"It was one of the most amazing experiences I've ever experienced, because junior year we finished third and made a goal right there in the offseason we'd put ourselves in a position to win," Johnson said.
Coach Van Rose has coached hundreds of runners since he's been the coach at SM Northwest. This year's girls team was not carried by one star runner, but the closeness of this group helped propel the Cougars to earn the Class 6A state championship.
"They just kept getting better and better," Rose said.
Since the beginning of last summer, Johnson worked hard in the mornings on her stride to attempt to become a solid runner. It paid off for her with a 12th-place finish in 15:14.40 seconds at Rim Rock Farm in 2011.
Johnson's short, efficient stride allowed her to become an effective runner. She will be a member of the cross-country and track and field teams at Northwest Missouri State University in Maryville this fall. If her SM Northwest career is any indication, Johnson will be a steady force for the Bearcats for years to come.
"I think she has such an even personality," Rose said. "No big highs, no big lows just really steady. I didn't have to tiptoe around her; we knew what Jessica was going to be like every single day."
Steady soccer force
Although soccer coach Todd Boren saw the potential of Johnson as soon as she stood on the pitch her freshman year, she was not much of a stat sheet stuffer. Boren used her flexibility on the soccer field to make her an efficient player during her three years on the team.
"She was able to play a wide variety of positions and play all of them well," Boren said.
During her senior season, while securing the 12th and final letter of her high school career, Johnson took on a much larger role for the Cougars. Mainly playing in the midfield, Johnson became more of an aggressor, establishing herself as one of SM Northwest's key offensive and defensive contributors.
"You always knew what you were going to get out of her," Boren said. "You always knew it was going to be a quality performance."
With a 9-8-1 campaign for her senior year, SM Northwest ended its season with a 3-0 loss to Blue Valley Northwest in the first round of regionals.
But for Johnson it was a difficult way to end it, with a partial tear in her ACL that slowed her down throughout the season.
Still, contributions to the soccer program will not be something forgotten anytime soon.
"Her emotions never came into play a whole lot, on the field or off the field," Boren said. "She stepped on the field, practiced her game and always worked hard."
Big-time turnaround
Dramatic change would be an understatement for the Lady Cougars basketball team over the past four seasons as a program.
When Johnson arrived at SM Northwest, she had every intention of competing at the highest level on the basketball court.
But a freshman season filled with frustration only panned out to a 2-19 record for the Cougars.
After a coaching change halfway through her time at Northwest, Johnson and the Cougars saw a dramatic turnaround in her a final go-round. In fact the 16-7 record in the senior season added up to a combined winning total greater than all of the first three seasons put together.
Johnson trusted the system implemented by coach Jeff Dickson, who took over the program two years ago.
"He put in a lot of time and that made us want to put in time and make us better," Johnson said. "He also made us relaxed on the court and we really came together as a team. He really cares about all his players, and that's why we we're able to be so successful, because we could see his passion."
Having that comfort in their coach allowed the Lady Cougars to advance all the way to the 6A state tournament in March, something that would have been unimaginable by senior players that had seen the struggle to rise to the top place in the state.
Johnson was one of the key players for SM Northwest, and Dickson realized early on that she was an invaluable piece to the puzzle.
"Jess is so unselfish and works so hard and never complains," Dickson said. "By her being the wonderful person she is and conducting herself the way she always has, it made it hard for anyone else to ever complain about the work expected or the discipline we asked out of the girls."
That unselfishness allowed Johnson to involve many of her teammates in the success-filled senior season.
Dickson said that she does all the little things and that most people don't notice. She's fundamentally sound, meaning she'll set the screen, take the extra pass, take the charge or do all the non-glamorous things to help a team win.
Johnson and the Cougars' success continued through the sub-state tournament and into the state tournament.
The Cougars dropped a difficult game against Maize, 51-31, in the first round. But after everything Johnson had gone through in her basketball career, just getting a chance to go to the state tournament was a victory in itself.
As she now moves on to the next step of her life, Johnson will have plenty of memories and has left an imprint that won't be soon forgotten by the Cougar community.
"She made it all look easy," Dickson said. "And that may be her biggest accomplishment because, trust me, none of it came easy to her. That level of success only comes from the hardest work and the most dogged determination."