SM

Northwest grad Rader showcased in

KCK

RBI

Classic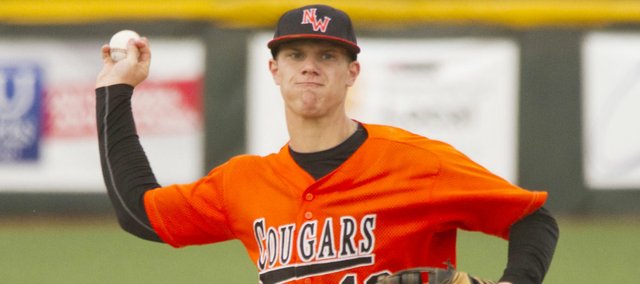 As one of the 39 baseball players at the KCK RBI Showcase on Saturday at CommunityAmerica Ballpark, recent Shawnee Mission Northwest graduate Chase Rader looked to compete in a matchup of some of the best talents across the state of Kansas.
With junior college, Division I, Division II, NAIA and pro scouts in attendance, it was an opportunity for some players to show off their skills one last time before hitting the road on club summer baseball or reporting to their college destinations.
Rader already had his future figured out. The shortstop and pitcher for the Cougars this past season will next play at Coffeyville Community College.
Although some scouts did evaluate Rader, this event ended up being a different experience for Rader, compared to the heated competition of normal league play.
"I got to play on the same team with different guys in the Sunflower League that are usually in the other dugout," Rader said. "I became pretty good friends with them."
Rader was asked to play in the game after SM East coach Jerrod Ryherd saw him playing in the Kansas All-Star game.
Ryherd said he'd watched Rader throughout his high school career and would love to have him on Team RBI, which Ryherd was fielding.
Finishing as a second team All-State selection, Rader was one of the crucial pieces for the Cougars, who put together one of their better seasons in recent years with a 16-5 mark.
Unfortunately, SM Northwest lost a heartbreaker last month to Olathe North, 3-2, negating their chances at the regional final and a trip to the state tournament.
The showcase consisted of three seven-inning games featuring teams named Team KCK, Team RBI and Team Kansas. This was the second time this event was put on by KCK RBI organization.
Rader managed to go 1-for-6 at the plate with four stolen bases over the two games. He also earned a save in the second game while striking out two players on Team Kansas.
Throughout this season, Rader has seen a lot of growth in his game that will prepare him for the next stage in his baseball career.
Rader said he not only needs to work hard but that he has to play the mental and physical sides of baseball to be successful.
For the rest of the summer, Rader will keep his baseball skills up before leaving for Coffeyville. He expects to have to report in early August.
Rader said the Ravens are looking to play him at either shortstop or possibly at closer, but nothing is guaranteed.
After a school record 33 wins, Rader just hopes to contribute to the growing success in Coffeyville.
"I just want everybody to come together, work hard and pick up where this year's team left off and be up around the top by the end of the year," Rader said.