St. James Academy gears up in 7-on-7 weekend tourney at Sprint Center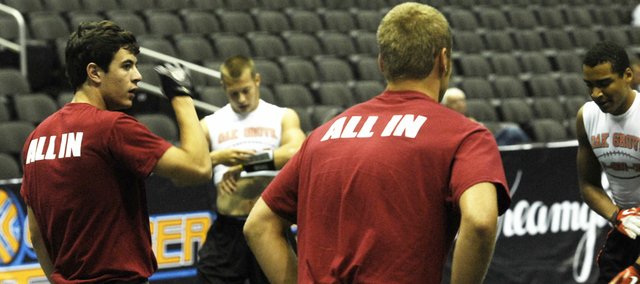 It was not your average day of 7-on-7 drills.
Instead of spreading across an unfilled practice field or stadium, the St. James Academy football team managed to get a few reps in at the Sprint Center before the Kansas City Command game on Saturday in the first annual KC Command Cup.
Thunder skill position players competed against five other teams as they vied for the trophy seen on the way through security of the arena.
Unfortunately for St. James, it could not overcome the array of talented players from the opposing squads, losing all three games and finishing 0-2 in their pool play.
Other teams in their pool were Blue Valley Northwest and Oak Grove, who went on to face Center High School in the championship game. Baldwin City and St. Thomas Aquinas also competed at the event.
Coach Tom Radke found out about this after the Command ticket office was looking for a way to get some local players into the Arena Football League game. Radke brought up that throwing together a 7-on-7 game might add to the players' excitement to come down for the event.
For the most part, the Thunder relies on a spread attack, so squeezing their drills into a 28-yard wide sideline, instead of the normal 53 yards, is quite a different scenario.
"Here you can't go sideline to sideline because it's right on top of you," Radke said. "The spacing is a lot different, so that's tough on you."
But Radke found some silver lining in the situation.
"It's good for the guys to be able to catch balls in tight coverage and tight traffic," Radke said.
St. James lost to Oak Grove and Center in its first two games of the day and then struggled to cover Blue Valley Northwest in the final pool game late in the afternoon, losing 32-12.
With just a running clock and no tallies flashing on the scoreboard, the score is the last thing on the players' and coaches' minds. Most of the time these games are set up somewhat like pickup games.
With players sporting just tennis shoes, T-shirts and athletic shorts, getting some reps in football situations is the main goal for all the teams.
Having this experience helps St. James go against some athletic receivers; that's why Radke leans on upperclassmen Matt Bierbaum, Tom Huppe and Tanner Hinderliter in the secondary.
"Those guys have done a really good job of leading that group," Radke said.
He also talked about quarterback Jansen Keyes and his leadership, especially with the young corps of receivers.
"He brings a lot to the table and working with a lot of young receivers," he said.
At this point, it's a pretty simple formula for the Thunder.
They plan to use the next few weeks of 7-on-7 and then work off the field until August.