SMNW

alum Erica Brand stays on upswing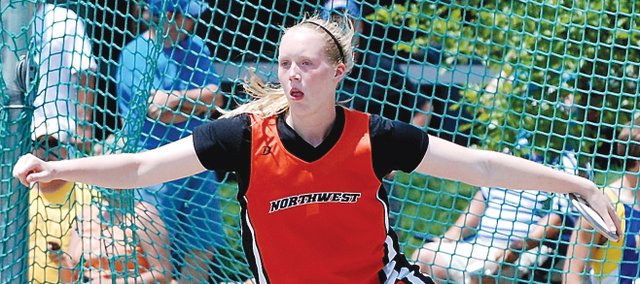 At her team's hotel during the NCAA Track and Field Championships in Des Moines, Iowa, Erica Brand did everything she could to get the looming competition out of her head.
The discus throwers performed in the afternoon, so she had to endure the morning with a light workout and her own thoughts, pushing the nerves away.
But Brand, now a sophomore thrower for Duke University, really had no reason to put herself through the internal struggle.
Just a couple of weeks earlier, Brand had to qualify for the championships by placing in the top 12 out of the 48 throwers in the NCAA East Regional meet.
Her competition all had reachable personal bests, so Brand wasn't too worried about failing to place. She ended up breaking her own school discus record, throwing a 53.61m, and finished fourth with a mark of 175-11, another school record.
On the first day of the 2012 NCAA championships, the circumstances weren't that different.
She could throw with most of the throwers around her, yet the nerves started to swell as she watched them perform.
"I've never been to the NCAA meet before," Brand said. "You never know what to expect. You know it's going to be similar to regionals, but just a little bit better because it's the next step up."
On her first throw, the one that usually helps get the anxiety out of her system, Brand was too caught up in the moment to think about technique and fouled. The next two throws showed that the pressure must have gotten to her.
For the first time in her collegiate career, and on the biggest stage, Brand failed to score at a meet.
"But it's also her first trip," Duke throwing coach B.J. Linnenbrink said. "That level of playing can make the first time going a little intimidating. You get there once and the next time you go back, your chances of doing well really go through the roof."
That was Brand's takeaway from the experience. She is heading into her junior year and still capable of throwing with most throwers in the country. An immediate goal for next season is to get here again and throw like she did during the season.
"Now after seeing how other people throw and knowing that it's not that far off from what I can do," she said, "I think it helps me with confidence if I get back next year."
Linnenbrink said Brand has the desire to throw as far as she possibly can, and that potential has yet to be reached. He remembered scouting her as a senior in high school during a volleyball game and thought she harbored raw athleticism.
Linnenbrink saw something else, a hardworking Midwest background, as he called it.
He should know, having been a dominating thrower at Johnson County Community College before attending Florida State University. Brand was already strong, but if she went through his regimen, good things were going to happen.
"I thought she had a lot of upside and so far that's come to fruition," Linnenbrink said.
There is still room to grow and having learned from her first trip to the NCAA championships, next year should be a different story. First, if Brand can get her technique down to perfection, it can overcome nerves and fouls won't happen.
But ultimately, her success is going to depend on her own mindset.
"Sometimes," Brand said, "all the stuff doesn't hit me and I don't realize how far I've come."