Former Maranatha runner honored at
KU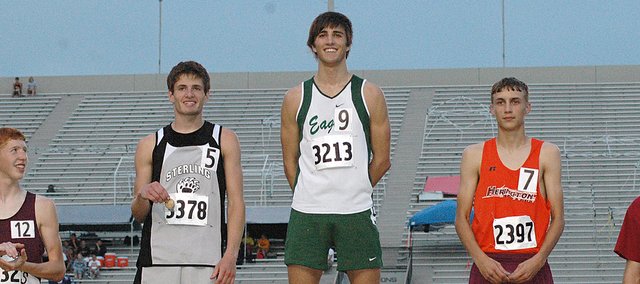 Audio Clip
Lawrence — Like most student-athletes at Kansas University, senior distance runner Zach Zarda is plugged into social networks.
In fact, before anyone could tell Zarda that he received the Big 12 Conference's highest academic honor, the Dr. Gerald Lage award, he stumbled upon a tweet from Kansas Athletics, opened up the link on his phone and discovered that he had been selected for the prestigious award. 
One of the better distance runners in Maranatha Academy history and now putting together a successful career at Kansas, Zarda hopes to continue his ambitions of making the national meets.
But what's helped Zarda more than anything is having his family support so close, while also building relationships with the track and field commnity in Lawrence.
"I knew I was going to be in a tough collegiate career. Trying to stay focused on academics as well as athletics is a tough thing to do, and family really helped me with that," Zarda said.
In order to qualify for the award, Big 12 athletes must complete 100 hours of college credit while maintaining a cumulative 3.80 grade-point average. Two other athletes from Kansas qualified for the award; senior swimmer Sarah Hettenback and senior quarterback Quinn Mecham.
A highly competitive academic and athletic setting, Maranatha proved to prepare Zarda for the grind of college.
"Growing up it was a huge focus of my family. My parents never pressured me or anything like that to get good grades, but there's always that expectation and they wanted me to be the best that I could be," Zarda said.
Zarda's father Bernie was the coach of the cross country and track team and helped mold him into a three-time all state selection for cross country, including a runner-up finish at the 2A state meet in 2007. He was also named to the All-Metro (Kansas City) team that season.
"Zach was one of those athletes where I never had to worry about him investing the miles or the time or the dedication into his workouts and his offseason programs," Bernie said. He was always very driven and willing to put the time in."
Bernie Zarda is no longer the full-time head coach, but still works with the distance runners at Maranatha in an assistant position.
"There's something deep inside of a kid, especially in distance running, where you've got some God-given talent, but if you're not willing to put the miles in, you're still not going to achieve some of your goals," he said. "Zach was one of those unique athletes who had some God-given talent, but also had the drive and the desire to work hard."
Now an important leader for KU's cross country and indoor and outdoor track and field teams, Zarda is looked upon by the Jayhawks for his leadership both in the classroom and on the treks.
"That's the whole picture. That's what we're looking for," said Michael Whittlesey, assistant cross-country and distant running coach. "Someone who's getting most out of their capabilities in everything that they do."
Zarda recently competed in the Alex Wilson Invitational in South Bend, Ind., and recorded the fastest team 3,000-meter time of this season where he finished in seventh-place with time of 8:14.00.
Even with all the scholastic and athletic success, it hasn't been an easy road for Zarda.
During his junior year of high school, Zarda suffered a stress fracture in his right shin and did not get to run a single race in the track season, which hurt him in the recruiting process.
Zarda still found home at KU and came onto the campus looking to make an early impact.
In 2009, he suffered another setback in his freshman year when he had another stress fracture in his right shin during the cross country season, which forced him to take a medical redshirt for the indoor and outdoor track seasons.
But the most difficult injury he battled through came last year when Zarda suffered a stress fracture in his left femur. Zarda came back a little too quickly from the injury and eventually developed some Achilles problems.
Zarda said it was the hardest injury he had to go through. He spent almost every day for five or six months cross training by himself trying to get back for the team.
Although it was difficult, Zarda learned a lot about himself from the trying experience.
"The only reason I made it through it was because of my family and my teammates," Zarda said. "They were the best support I could possibly ask for."
Whittlesey also saw a lot of growth from his runner through the difficult process.
"Going through the injuries has really strengthened his love for how much he really enjoys running and how good he wants to be at running," he said.
Having that experience also allows Zarda to help other runners that are now going through similar experiences.
"Whenever someone else get injured on the team or something like that, I feel like I'm in a position where I can definitely go up to them and give them advice and talk to them through it," Zarda said.
With a couple more seasons of eligibility left, Zarda hopes to continue to improve while earning degrees in finance and supply chain management.
"Zach's really learned how to handle the early part of the races and keep himself in the game," Whittlesey said. "He's got a tremendous will to find that finish line, which is what you always want."
Above all else, Zarda has one goal in mind before he hangs up the running cleats: Go to Nationals, especially in cross-country where he still has eligibility remaining.
"Zach's for doing about anything he puts his mind to, and I think we've seen that over and over in his life," Bernie said.
As for track, he wants to be on the podium at the Big 12 Championships and hopefully make the National Championships in June.
"I'm going to Nationals," Zarda said with confidence. "I'm not missing out. It's gonna happen."