Old movie theater restored into new, modern church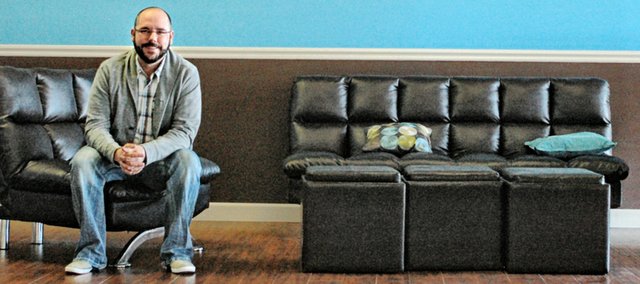 New City Church
Worship services at New City Church, 7456 Nieman Road, are at 10 a.m. and 11:30 a.m. Sundays. The church also offers Kid City, a youth service, each Sunday. Learn more about the church and its events at newcitychurch.com.
Troy Rios of Olathe recently entered a former movie theater seeking a religious approach he could relate to.
He said he had been there once before, but wanted more information.
"I like that it was modern and hip and up-to-date," Rios said of the worship services happening in the space at 7456 Nieman Road.
People like Rios, looking for a more progressive approach to the Bible and its teachings, are whom the founders of New City Church want to reach out to, said lead pastor Matt Miller.
The new interdenominational church is part of What if the Church — a network of churches in the Kansas City area that uses modern methods to share the traditional messages behind the Bible and story of Jesus. Three churches in the network — Restore Community Church, Olathe Bible Church and Westside Family Church — combined efforts to get New City Church off the ground, Miller said.
"We are very passionate about you, family and city … those are the three areas that we want to focus on," Miller said. "The mission that we say we're after is to inspire you to trust in and live like Jesus."
Finding that inspiration in an abandoned movie theater tucked between Johnny C's Pizza and a Dollar General may seem unlikely.
Miller said the initial plan was to open as a set up/tear down church at Trailridge Middle School.
That all changed when he saw the Trailridge Cinema, a discount movie theater that had been closed for about two years. Miller happened across the cinema on a trip to the dollar store, and he knew it was the perfect place.
"It was abandoned, it was an eyesore, and I just saw huge potential when I pulled up," said Miller, who was a pastor for nine years at a Fort Lauderdale, Fla., church before moving to Shawnee last year. "I had no idea what the inside looked like, but I knew this would be a great space for a start-up church."
The more than $200,000 in renovations took place from July to November and were largely funded by Varnum Armstrong Deeter, Trailridge Center's commercial real estate firm and managing general partner.
"If what the church was doing was going to be good for the community, then it obviously was going to be good for the center," said Varnum Armstrong Deeter real estate agent Karen Miller, who worked with New City Church on its lease agreement.
The church opened in January and features modern fixtures and furniture in the lobby. The wall between two of the building's former theaters was torn down to create one large sanctuary, without pews but with chairs for seating and a stage for live music during worship services. The original movie screens were left alone and are now used for multimedia presentations during the services and for free, family-oriented movies the church offers Friday nights.
There's a "wow factor" when visitors walk in, Matt Miller said.
"It feels good, it looks good and it's a really nice surprise for people … to see it being used by our community and that it's making a difference in our community," Miller said.
Executive pastor Chris Moix said regular, weekly attendance has grown to include 275 to 300 people, some of whom used to go to movies there.
Making an impact on the community is a major part of New City's goals, Miller said. Thus far, he said, the church has tried to do that through donating tithe funds back to community schools and organizations, offering services such as English as a second language classes and free eye exams, and creating worship services that apply to everyday life situations and that center around the benefits of having faith.
"I believe that God has something to say to you, and it's not bad news. I think a lot of people that are not part of the church, I think they sometimes think God's out to get them … and I just don't think that's true," Miller said. "And I feel a great deal of passion to show them — not just tell them, but show them — that God has something good to say to their life."
More like this story