Spring sports preview: St. James Academy begins season with title hopes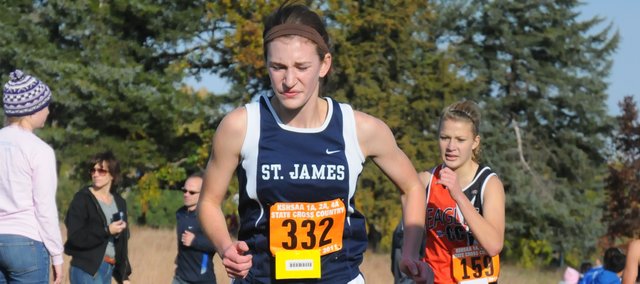 With multiple state championships and other teams on the rise, St. James Academy has been growing force in Kansas high school athletics since its inception in 2005.
Not only do all the programs want their individual athletes to succeed, they also want to put their teams in position to fill up trophy cases inside the school.
Here's a look at what each St. James team hopes to accomplish this spring.
BASEBALL
Defending a state championship can never be an easy task, especially when a team loses nine or 10 seniors to graduation.
But some of the Thunder's more talented baseball players return this year, including a few All-State performers.
Senior Matt Eckleman looks to be the ace for the Thunder's rotation this year. He was named to the All-State First Team last season and looks to continue that during his 2012 campaign.
Seniors Stephen Gillespe and Christian Bednar round out a solid starting rotation, which is the strongest part of St. James team this year, according to coach Brian Bucklin.

Bucklin also pointed to senior shortstop Jake Wodtke, the reigning Kansas 4A Player of the Year as another key contributor.
Senior Austin Murrell looks to be another important piece for the Thunder in center field this season.
The Thunder needs an emergence of the sophomores and juniors in order to compete again at the same level.
Juniors David Maddock, Andy Muehlberger and Jansen Keyes all hope to expand to bigger roles this season.
Ryan McCourt, the younger brother of recently-graduated outfielder Calin McCourt, is another person looking to step up for St. James.
With a difficult schedule filled with several 5A and 6A matchups, the Thunder will be battle-tested when the playoffs roll around. However, Bucklin believes that's the best way to get this team ready for the home stretch.
"With the experience that we had last year is going to give a good shot to be one of the teams that could be talked about as contenders, " Bucklin said.
St. James opened its season on Tuesday against Lawrence Free State. Results were not available at press time.
BOYS GOLF
After just missing out at regionals for qualifying the team for the state championship, the St. James boys golf team looks to build on the close call from last year.
The Thunder is led by junior Ben Maskus, who looks to be the most consistent golfer for the team. He qualified for state last year and coach John Muehlberger has seen massive improvements from him so far.
A host of freshmen also looks to contribute early. The newcomers are led by Jack Reilly, who Muehlberger projects as the number two golfer on the team at the start of the season.
Freshmen Cole Stelzer and Corbin Befort will add to the Thunder's depth this year.
Junior Cody Heran and senior Logan Fortney round out the varsity rotation for St. James.
Although the team is young, Muehlberger fully expects St. James to make a run at a state tournament appearance, especially since it takes place on one of the team's practice courses.
"That's what I'm really looking forward to this season," Muehlberger said. "To be able to fight for some team titles in our tournaments."
The Thunder begins its season at the Blue Valley West Invitational at 3 p.m. on March 26.
BOYS TENNIS
Without losing any seniors, the Thunder has plenty of upperclassmen talent to build off its second place regional finish. Although St. James sent three players to the state tournament, the goal now turns to putting the entire squad into 4A's final tournament.
"We want to qualify our whole team for State and need to add depth to both the singles and doubles lineup," coach Rebecca Snodgrass said.
Juniors Matthew Bierbaum and Connor Hosty return as a duo that made a run into the state tournament last year after a runner-up finish at the regional tournament.

In singles, senior Ian Deggendorf looks to improve on his placement and looks to move up in the ranks for the Thunder.
Senior Joe Tinker will also provide some senior leadership for the St. James.
Snodgrass said that her team has excellent depth, but they need to add depth to both the singles and doubles lineup.
St. James boys tennis begins its season at the MO-KAN Tournament at 8 a.m. on March 26.
GIRLS SOCCER
Although you can't always tell by its record, the St. James girls soccer team continues to put together a competitive schedule and improve as a consistent contender in the class 4A ranks.
The other staple for the Thunder has been its brutal schedule to test how well it'll do throughout the season.
Some of the highlighted events include the fourth-annual PINKOUT fundraiser for St. Thomas Aquinas later in the year.
That's not all for the Thunder. The team will also compete in the MO-KAN, which pits the best area teams against each other. St. James also will travel to St. Louis for the Heart of American Showcase against some of the top programs in the country.
It's a stacked schedule even for St. James' standards, but girls soccer coach Rick Enna believes the team will be up to the challenge.
And the most important thing he's drilled into the team's head? Don't worry about the record.
St. James finished 11-8-1 last year, but was battle-tested once it was ready for the 4A state tournament.
"I think our program's approaches are pretty much well-known now for everybody that comes into play for us," Enna said. "That's really engrained."
Although the Thunder lost 10 letter-winners, it remains poised to make a push for the postseason. The team is led by a slew of seniors including Faith Bila, Meggie Brophy, Liz Enna, Emily Feldkamp, Nicole Mitchell and Annelise Feder.
Enna also sees three freshmen and a number of sophomores as possible contributors.
It's safe to say, depth will be a strong suit for St. James.
"I think the real mystery for this year is going to be how well our returning veteran players work together with our newcomers to fill those gaps," Enna said.
So throughout the regular season process, the Thunder will continue the same mindset that's brought it three state titles in four years.
"I think we are going to be competitive, but will be playing many very highly talented teams. So I have no clue about how our record will end up," Enna said. "But we will play to win each game."
St. James opens at 7 p.m. March 23 at home against Bishop Miege.
GIRLS SWIM & DIVE
Following a second-place finish by the boys swimming team earlier this year, the girls hope they can put together a similar showing at the state tournament this spring.
With over 50 swimmers coming out for the team, coach Kelle Hercules sees a lot of potential in this group to put together a fairly decent run throughout the season.
The main contributors for the Thunder include: Emily Abraham, Lauren Amrein, Caroline Deggendorf, Augusta Garies, Emily Kippes, Maeve Markey, Augustine Markey, Brigid Pikus, Hannah Sanchez and Lauren Trupiano.
On the diving side, look for Mary Kate Damaher and Coutrney Gammi to lead the team.
Although it's early in the season, Hercules likes the makeup of this group.
"This year I've seen how helpful they are to each other to try to improve and get everybody better," Hercules said. "It's one of the kindest teams I've ever had.
The Thunder's season begins with the Field Kindley Invitational on Saturday, March 31.
SOFTBALL
After a breakthrough season for St. James softball in 2011, the Thunder looks to improve on its second-place state finish. The girls came within a few runs of capturing the first state title in softball history.

But with Laura Stringfellow, the only senior leaving the team because of graduation, the Thunder has the nucleus to make another run at the postseason podium.
"We have all of our starters returning, so the goal to repeat and win state is definitely within reach," coach Kerri Elstun said. "We just need to stay healthy."
Some of those key players include seniors Jess Buie, Lydia Budke, Kayla Guyot and Kristin Loc, who played a tremendous roll in the Thunder's run to the state.
Sophomores Caroline Lipp and Cydney Barrick will be forces to be reckoned with, as well, later in the year.
St. James' season debut will be at 4 p.m. March 27 in a double-header at Spring Hill.
TRACK & FIELD
Following a record number of state competitors, including four medalists last year at the state track meet, coach Rick Weitz sees the growth of the St. James academy track program as becoming another viable state contender for the Thunder.
Weitz hopes senior Austin Krause, Peter Beatty, Thomas Hinkel, Nick Eisenberg, L.J. Burke and Will Frank all step up in their respective events to help the overall team.
On the girls side, look for Marlee Laures, Katie Dulek and Tina Keehn to fill the shoes of the graduated seniors.
Other people looking to make an impact for the Thunder include juniors Adam Perkins, Bob Engen, Carter Breithaupt, Darin Feist, John Scherschligt, Ryan Kelly, Tanner Hinderliter. Sophomore Ian Jones is also a returning letter-winner.
On the girls side, other returning letter-winners for St. James are Abbey York, Alexa Van Lerberg, Emily Tripp, Jaye Peters, Sarah Zuchowski, Randa Mortensen. A few sophomores led by Brie Lewis, Bristol Lewis and Nora McHenry will be asked to contribute to the team's success, as well.
Above everything, the Thunder expects to continue to show signs of eventually being a continuous contender in 4A.
"We expect to see improvement throughout the season," Weitz said. "We know that the kids will go out and compete in their events. But we want them to remember that we are one team trying to accomplish many goals."
SJA's season gets starts on March 27 at Grain Valley High School.
More like this story