Shawnee business owner is lone Kansas representative on
U.S.

trade mission to China
Dodge City Beef moved to bigger retail space this month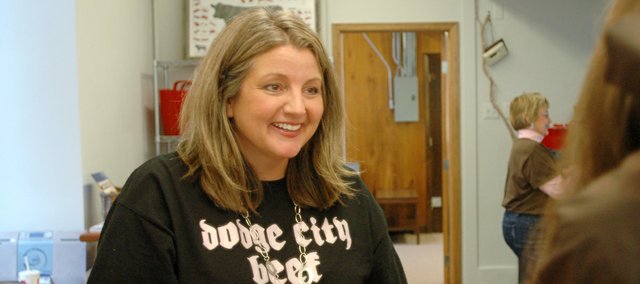 Hillary Urich's children — keenly aware of the latest national food scare — began to wonder about the safety of the meat they were being fed at home.
When they questioned her, the Shawnee mom said her answer came easily: "We buy our beef from Dodge City. There's no pink slime."
Dodge City Beef owner Don Hullman's cattle-raising and business experience helped earn him a spot on this month's U.S. Department of Agriculture trade mission to China. He's the only Kansan in a group of 40 business representatives on the trip, which the department described as its largest trade mission to date.
"We embrace this opportunity to demonstrate that our U.S. farmers, ranchers and producers are reliable suppliers of the highest quality food and agricultural products," Michael Scuse, acting undersecretary for farm and foreign agricultural services, said Thursday in a USDA news release. "At the same time, USDA and our federal partners will continue to aggressively work to expand export opportunities and reduce barriers to trade."
Dodge City Beef moved this month from 11115 Johnson Drive to a larger retail space a few doors down, inside the former Commerce Bank building at the corner of Johnson Drive and Nieman Road. Inside and online at dodgecitybeef.com, the business sells hormone-free Black Angus beef raised on Hullman's three-generation family ranch in Pratt.
Hullman and the trade mission group were scheduled to be in China from Friday until Wednesday, March 28.
Hullman left Kansas days earlier for the first leg of the trip, but his daughter Heidi Hullman-Davis, who manages the Shawnee store, spoke on his behalf.
"He does anything he can do to promote good quality beef," she said. "He's one of the only ranchers out there that truly raise the cattle and then sells the meat in a retail store, so you're buying it directly from him."
Hullman-Davis said her father's grasp of both spectrums — what consumers want and what it takes to run a small business — would be valuable to the mission. He also brings years of involvement with national and state beef and livestock associations, she said.
Other China delegates include representatives from companies that produce or sell wine, seafood, pork, dried fruits and nuts, snack foods and cranberries. Also represented are companies specializing in biotechnology and importing/exporting.
Chinese demand for bulk commodities such as soybeans and cotton is high, while demand for "high-value" U.S. products such as meat and processed foods is hoped to grow, according to the USDA. The trade mission aims to help American businesses make deals, strengthen business ties, expand their markets and support jobs back home.
The delegation was scheduled to stop in Chengdu and Shanghai to meet with Chinese producers, importers, buyers, distributors and investors and visit the Food Ingredients China trade show.
At 71, Hullman is visiting a non-Western country for the first time, his daughter said.
"It's a real honor," she said.
According to the business, Dodge City Beef does not purchase cattle from livestock auctions, enabling the company to control its product by being aware of past medical history. Cattle are raised primarily on pasture and fed a vegetarian diet and non-medicated feed.
And Dodge City Beef contains no so-called pink slime — a filler known in the meat industry as "lean, finely textured beef," made of leftover meat bits that are heated, drained of fat and exposed to ammonia to kill bacteria, according to Associated Press reports. Federal regulators say the product meets food safety standards, but critics believe it's unsafe.
Count Urich, a Dodge City Beef regular, among the critics.
"We just love supporting local family farms and know that it's better for you," she said.
With about 1,200 square feet, Dodge City Beef's new retail store has about three times as much space as its former home.
In the larger space, Hullman-Davis envisions inviting area chefs in to cook her products and distribute samples — ideally on Saturdays when the Shawnee Farmer's Market is going on across the street.
"I think that will help bring more action to downtown Shawnee," she said.