Mill Valley softball finishes regular season with
KVL

crown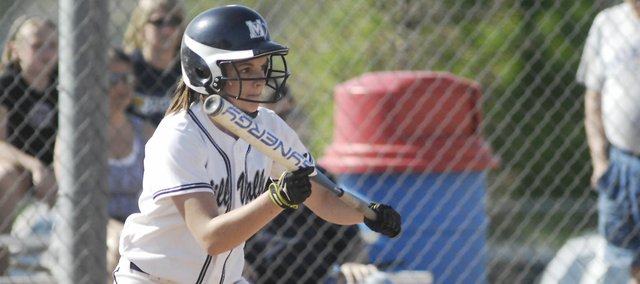 With a 17-1 record entering the weekend, the Mill Valley softball team hoped that a victory against St. Thomas Aquinas at the Eudora Tournament would secure its spot as the top team in its regional draw.
However, the Jaguars could not overcome the Saints on Friday, losing 5-2 to in a hotly contested match.
"I thought they played well," coach Sarah Haub said. "This has been a rough competition all year."
The standout for Mill Valley this weekend was Kelli Spring, who ended up going 3-for-4 against Aquinas on Friday. She also had another solid output against Garden City on Saturday.
The Jaguars secured a bounce-back victory on Saturday morning, defeating the Buffaloes, 8-2.
"They played really hard, and what I was proud about was we were able to come back," Haub said.
Mill Valley's Taylor Brunson provided the necessary pop by knocking a home run over the fence against Garden City.
Now with the regular season wrapped up, the Jaguars will work on more improvements this week in order to position themselves for a run at state during regional competition on May 14.
"They're working hard," Haub said. "They're excited to play at regionals. They want to go far, they want to compete."
More like this story