State golf recaps: Foth second, Cougars fourth at state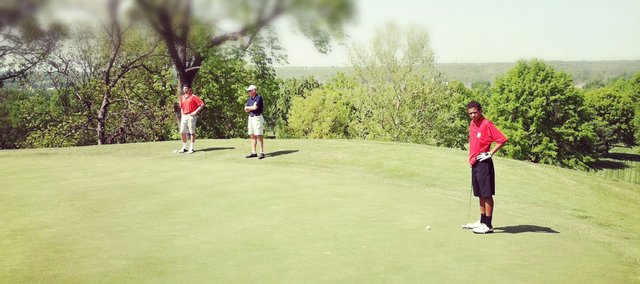 More state golf results
• St. James Academy's Jack Reilly placed fifth overall in the 4A boys golf state tournament at Dub's Dread Golf Course in Piper on Monday. Reilly shot a 78, including a 36 on the back nine to force a playoff.
• Mill Valley placed 11th overall in the 5A boys golf state tournament at Alvamar Golf Course in Lawrence on Monday.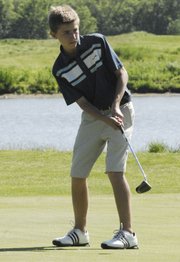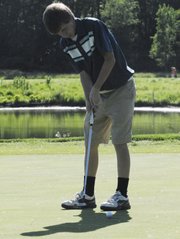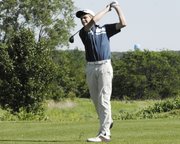 In recent years, the Shawnee Mission Northwest golf team has been on the verge of grabbing a state tournament trophy to put in the hallways of its school.
The Cougars fell just short again on Monday, putting together a four-player score of 318 at Buffalo Dunes in Garden City to place fourth overall in the tournament. It was an improvement over last year's sixth-place finish and wrapped up a season of steady play.
"The consistency paid huge dividends for us all season long," SM Northwest coach Jim Bamburg said.
Blue Valley North won the team title with a score of 300. Blue Valley West was second with 315. Blue Valley North's Zach Tate was the individual champion with a round of 73. SM East placed third with a score of 316.
Senior Jackson Foth repeated his top-three placement, this time his 74 being good enough to take home second place in his final high school event. Foth beat out Blue Valley North's Ross Thornton in a playoff following the day's rounds.
"I really thought I had a chance to win, and it's always been a goal to get first," Foth said. "I can't complain about third and second my junior and senior year."
Foth's been focused throughout the spring, winning multiple tournaments and putting himself in position to be a contender for the state tournament.
Monday was no exception, but the conditions at the western Kansas course proved dissimilar from what the team was used to for most of the year. Foth said there were not very many trees and more tall grass to lose your ball in and that it was windy all day at Buffalo Dunes.
After signing a letter of intent in February, Foth plans to attend Kansas University in the fall and compete for its golf team.
Also for the Cougars, senior Logan Coffman wrapped up his high school career with an 80 and a top-20 finish.
Underclassmen Mitchell Bolton and Garret Allen posted a pair of 82s. Other finishers for SM Northwest included Allen's brother Colton, who shot an 84. Collin Weems rounded out the team participants with an 88.
"Those guys knew this was a chance to contribute to a very successful season, and they wanted to do their part and made sure those guys went out with a great senior year," Bamburg said.
Despite the finish, the Cougars are pleased with their performance this year and hope their imprint is left for the next group of players.
"It feels good that you're definitely one of the top teams in the state year in and year out all four years I've been here," Foth said. "Although we didn't have the finishes we wanted, everyone knows we were contenders."
More like this story