When old soldiers fade away, honor guard pays tribute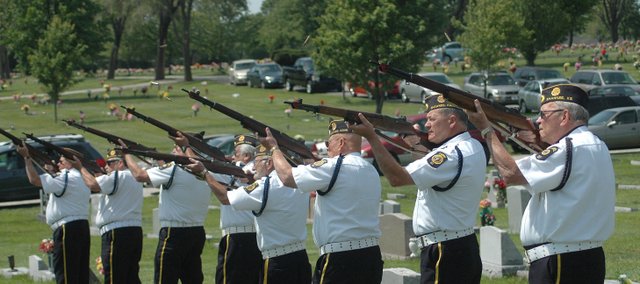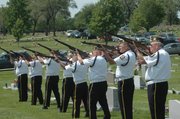 Memorial Day is about not forgetting.
That's what the Shawnee American Legion Post 327 Color Guard is all about, as well.
Also known as an honor guard, the unit was represented by nine of its 25 volunteer members during May 17 graveside services for Manuel Mendez, an 83-year-old Army veteran from Kansas City, Kan. He wasn't a general and had not been active military for decades.
"Doesn't matter," honor guard member Bob Rigg of Shawnee said. "He still served, and we don't forget."
Mendez's funeral was the 50th this year during which the Shawnee honor guard has fired a three-volley gun salute, folded the colors and presented them to the deceased's family, and played the lead-in to the appropriate service anthem, followed by taps.
Shawnee resident Dan Land, who plays the lead-in and taps on his trumpet, became coordinator of the honor guard 17 years ago and presided over a reorganization that increased participation in and demand for the unit.
Before that time, the unit was made up exclusively of former Shawnee post commanders and limited its graveside tributes to services for post members. But with the reorganization, membership was broadened and the unit began appearing on request for any veterans' funeral within a 45-minute drive.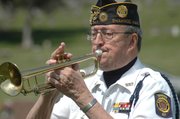 Thus, the number of funerals the unit has performed at has grown from fewer than 10 during the year Land became coordinator to as many as 260 in a single year. And as of now, the number of veterans' services it has appeared at under Land stands at 2,488 — which translates to a lot of work for the 82-year-old.
"Dan Land has worked his keister off for this post," said Glenn Wilson, first vice commander. "As far as getting people buried, when the funeral home calls, he has to call 25 guys to get seven or eight on the firing squad. And he blows taps."
Asked about the volunteers he coordinates, Land said, "I've got guys from Vietnam. I've got guys from Desert Storm. I've got guys who are older than a sack of rocks."
Honor guard member Billy Goodson, who served with the Marines during the Korean War, joked that members serve "because Dan makes us."
"Once you get on, you can't get off without getting banned from the Legion," he said, then added on a serious note, "We just think somebody needs to honor these guys."
Land, who became an honor guard member in 1983, the year he served as post commander, agreed.
"I just think they deserve it and their family deserves it for what they did," said Land, who voiced disappointment that more families don't request military services.
The honor guard doesn't charge for its services, Land added, and any donations it receives are used to fund college scholarships.
A Legion member for 50 years, Land has belonged to the Shawnee post for 42. Originally from Alabama, his fate as a longtime resident was sealed one day in 1951 while he was hitchhiking from Kansas City, Mo., to the Olathe Naval Air Station.
On the way, he got a ride from a buddy, whom he hadn't seen since they'd served aboard the USS Boxer before and during the Korean War. The buddy's cousin, a local girl named Mary Elizabeth "Sugar" Jakobe, was in the back seat. And not long after, Land married her. Land and his wife, who died four years ago, had eight children, who produced 16 grandkids and 15 great-grandchildren. But Land, who spends lots of time with family in addition to working as an accountant, still finds time for the honor guard.
"Maybe I'd like somebody to do it when I pass away," he said, further explaining his motivation.