St. James wins state baseball title after 17-0 victory
Photo Gallery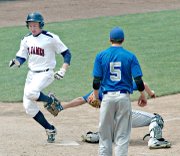 St. James Academy at the 2012 Butch Foster Memorial Classic
St. James Academy easily grabbed its second consecutive 4A state baseball championship on Saturday in Salina after defeating Concordia 17-0 in just three innings.
Pitching carried St. James through the season, but in Salina it relied heavily on its bats after earning a tournament berth with its thumping of Spring Hill in the regional final.
"The boys started swinging with a lot of confidence and rode that momentum," St. James coach Brian Bucklin said. "They had a great approach at the plate, swinging at a lot of pitches and really moved the ball around."
The No. 7 Thunder did not waste any time jumping out to a lead with four runs scored in the first inning of the championship game against Concordia. St. James tallied five more runs in the second inning, putting them far ahead of Concordia going into the bottom of the second. With the Panthers pitching staff struggling, the Thunder grabbed eight more runs in the third to put the spread rule into play for the third inning.
Bucklin said Ryan McCourt, Matt Wagner and Alex King, among an array of others, helped the Thunder compile a 36-2 total score for the tournament. Blending the new faces with some experienced players from last year put the Thunder in position early to win the state championship.
"It just all came together with that new class of guys coming in and our seniors really have been a steadying force for us," Bucklin said.
One such senior was Matt Eckelman, who was the rock of the team all year. Since hitting the Thunder's offense crushed the competition, Eckelman pitched just four innings all weekend.
Against Trinity Academy on Friday, Eckelman pitched four scoreless innings — including seven strikeouts — while allowing one hit and one walk.
Having one of the premier pitchers in the area in Eckleman allowed St. James to spread a winning demeanor with his teammates.
"We knew every time he took the mound, we had a chance to beat anybody in the city when he was pitching," Bucklin said.
Against Concordia, senior Christian Bednar continued St. James' stellar pitching.
Offensively, Andrew Muehlberger helped heat up the bats on Saturday, going 3-for-3 in the game with four RBIs and three runs scored.
Third baseman Alex King managed an impressive Saturday afternoon at the plate as well with two hits, two runs and three RBIs.
St. James won its semifinal game, 10-2, against Mulvane earlier in the day. Pitcher Jansen Keyes completed a three-hit game.