Mill Valley to stage 'timeless' musical with modern message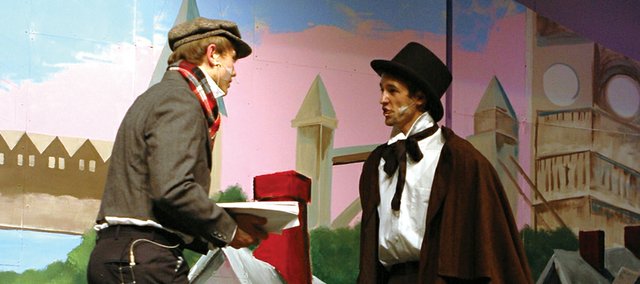 It's gone through a number of adaptations, and starred everyone from Bill Murray to Mister Magoo, but "A Christmas Carol" has a message that's still applicable to today's audiences.
That's what Jonathan Copeland believes of the "timeless" musical he chose for Mill Valley High School's fall theatrical presentation. He said he landed on the 2004 made-for-TV film version that starred Kelsey Grammar as the miserly Ebenezer Scrooge after listening to the soundtrack last year.
"I was like, 'What a great musical! I should do this. Why didn't I think of this before?'" the Mill Valley drama teacher recalled. "So it was kind of an epiphany."
And the performances, which kicked off Sunday, couldn't be better timed, he said.
"I think right now there's been cynicism in the past year because of the elections," Copeland said. "So I'm hoping this will just send out ripples of (the idea that) people are good and deep down we're all the same underneath all our perceived differences."
The cast of more than 70 students features senior Alec Santaularia in the lead role.
Santaularia said a role so different from his own friendly, outgoing personality was a challenge to play, and he talked about the personal transformation Scrooge goes through in one night as he is visited by the ghosts of Christmas Past, Christmas Present and Christmas Yet to Come.

"In the beginning, he's very coarse. He just doesn't really come off very well to other people. He's very self-centered; he's all about helping himself and making money and keeping money and not about helping others," Santaularia said. Later, Scrooge "learns what it means to be a part of society and to give back and the rewarding feeling that that gives."
Not so challenging for junior Olivia Phillips was the role of the Ghost of Christmas Past.
"It's so much fun to be so happy all the time," Phillips said of her role. "I mean, I'm kind of a happy person, so it was really easy for me to play her."
The main difficulty with such a large-scale musical, Copeland said, was working with the relatively small space afforded by Mill Valley's Little Theater. He said he and the 15 to 20 students involved with building the sets have had to "be really creative" with set design.
Junior Victoria Kilkenny, who plays Scrooge's maid, Mrs. Mops, said she hopes the audience, like her, feels inspired by "A Christmas Carol."
"I hope they realize that it's never too late to change," she said, "and it's never too late to reconcile your differences with people."
Performances of "A Christmas Carol" continue at 7 p.m. Wednesday, Nov. 7, Thursday and Saturday — though Copeland said Saturday's performance was sold out at this time. Tickets are $6 for audience members and $3 for Mill Valley students. For more ticket information, download an order form at bit.ly/TqEFc1, or call Mill Valley at 913-422-4351.