November pain: Jaguars' season ends with 41-23 home playoff defeat to Bishop Miege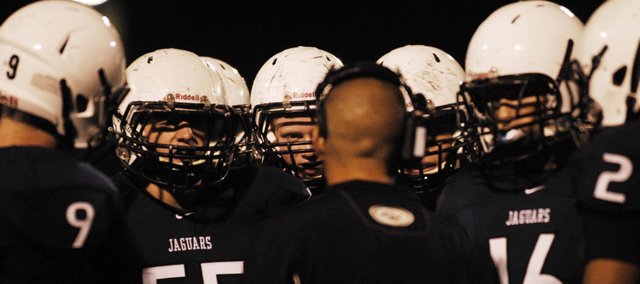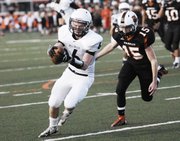 When time ran out and the Mill Valley football team gathered to recognize Bishop Miege, who handed it a 41-23 defeat to end its season Friday, the Jaguars turned toward the locker room a final time.
As they exited the field, each player and coach filed through the large, inflated Jaguar head through which the team makes its entrance before each home game. One by one, they passed through, recipients of a stinging November loss to halt an 8-2 season.
Before his exit, senior quarterback Skyler Windmiller stopped and stood against the Jaguar's maw. Through red, glassy eyes, he looked out on his home field once more as Mill Valley coach Joel Applebee approached and placed a hand on Windmiller's shoulder.
"Let's go," he said softly before they turned and walked away.
After a District 2 championship season in which the Jaguars routed each of their opponents in an eight-game winning streak, Mill Valley learned early that Bishop Miege — though 4-5 — was unlike any team it had seen since a season-opening loss at Manhattan.
Two Stags scoring drives consumed half of the first quarter and put the Jaguars on unfamiliar terrain: down 14-0 early. And after Windmiller ran in a 26-yard touchdown to make it 14-6 with less than five minutes until halftime, Bishop Miege's McKinley Johnson ran the following kickoff back 85 yards for a score.
"That was a killer for us," Applebee later said.
For their part, the Jaguars still had chances to win back momentum to start the second half. After a 32-yard field goal by junior Connor Mills cut the deficit to 21-9 entering halftime, the Jaguars received the ball to start the third quarter.
The Jaguars worked their way into Bishop Miege territory before holding and delay of game penalties forced Mill Valley to relinquish possession.
Worse still, the Stags responded with a seven-play, 77-yard drive to go up 28-9.
It wasn't close again. That's not to say the evening proceeded uneventfully.
Mill Valley senior Ryan Bath recovered two fumbles to give the offense another crack at scoring — the second opportunity cashed in at the Stags' 4-yard line, where a touchdown run by junior Nick Wilson made it 34-16 with 9:37 left in the game.
When it was all but over, on the Jaguars' final drive, Windmiller drove the offense 63 yards, completing 8 of 10 pass attempts directed at senior Staton Rebeck, who finished with 19 receptions for 173 yards.
"Just wanted to finish strong," Rebeck said. "End my high school career with a bang, and our season, too. These guys are everything to me. I wouldn't be playing football if it wasn't for them."
Rebeck ended a career in which he spent 10 years playing with of a host of his fellow seniors. Alongside senior L.J. Hatch, Rebeck became one of Windmiller's top targets this season.
Windmiller's final game as a Jaguar ended with him dashing to the end zone on an 11-yard touchdown run. He finished with 276 passing yards and an interception on 29-of-56 passing and led Mill Valley with 75 rushing yards on 14 carries and two scores.
"They just did what they did all year really," Applebee said of the final drive.
Hatch went on to catch 10 passes for 103 yards.
The loss saw the Jaguars fall short of their own grand expectations for a season in which there was little doubt as to who would capture their league and district titles. Friday, in defeat, 18 seniors ended their Mill Valley careers.
Among them are Windmiller and Rebeck and Hatch.
And Kendall Short, who returned from injury to be one of three 500-yard rushers. And Tim Thomas, one of the only players able to stop Bishop Miege quarterback, and Kansas University commit, Montel Cozart when he took off on his feet.
"Tim Thomas played unbelievably on defensive line," Applebee said. "That doesn't get noticed often because tackles aren't there always, but he did a great job this year on the D-line for us. He's a big part of the reason we were improved defensively."
But, as Rebeck later said, some things just don't go your way. In a season filled with moments that went Mill Valley's way, fate dealt it a cruel hand Friday.
There will be plenty of time to talk about whether the Jaguars' league adequately prepares them for postseason foes like Bishop Miege, which has won three-straight against the Jaguars in districts and playoffs dating back to 2010.
But as the team gathered with its coach, who himself wore the emotion of the moment for all to see, perspective was granted amid the sorrow.
"I told them the best thing about this is they are better people and that's really all that matters," Applebee said. "They're such good kids. And that's going to take them a lot farther than a football game. So they always have that to hang their hat on."
Added Rebeck, speaking outside a locker room housing a silver and blue uniform he won't wear again: "It wasn't the outcome we expected, but I wouldn't trade this season or any season in the past for a win tonight."
More like this story