Leaving it better than he found it: Shawnee senior helps engineer St. James football turnaround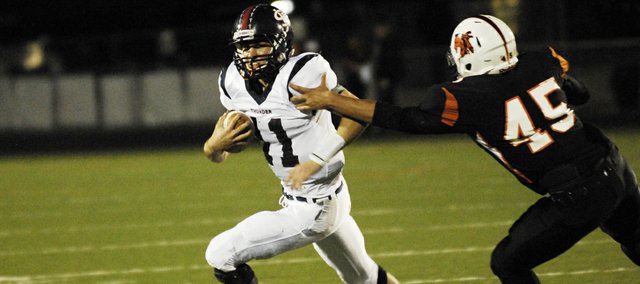 St. James Academy senior quarterback Jansen Keyes is mortal. It's a hard lesson for any high school player to accept but one that every athlete must inevitably face. The sport and the body can both betray you at any time.
Keyes suffered an MCL tear against Baldwin last season as a junior, an injury that caused him to miss three games. He came back for the last game of the season, but by that point the Thunder had seen its 3-0 start sputter to a 4-5 overall record. The promise of the team's first winning season might have gone down with its quarterback.
Because of the injury, Keyes entered this season aware that the shelf life of a football player can be as short as the play it took to undo his MCL. His response wasn't about injury prevention but rather expending everything he had on the field so there would be no regrets. He has used this 2012 season to run each play as if it were the last snap he'll ever take.
With this year's 7-2 season — capped by a 42-28 loss on Oct. 24 to De Soto, by far the best record the school has ever seen — Keyes and his senior classmates built a legacy that could be the turning point for the relatively new football program.
"We may be a new school," Keyes said, "but it doesn't mean we can't compete."
The St. James football program has been around only since 2006 and is just now experiencing a winning record, and the class of 2013 has had a front row seat to this rise. And it's no coincidence that the team saw its biggest shift come last year when coach Tom Radke took the head coaching job and Keyes became the starting quarterback.
That first season was about installing a new offense and getting the players acquainted with the new coaching staff. This season is when it all started to come together.
"I kind of knew we had some talented guys and a big line; you need that in the Frontier League with the schedule we play," Radke said. "I knew it going in and the coaches did. It was just getting them (the players) convinced that they could be really, really good."
Given his position, Keyes has been the mainstay of a team that won its first six games in inspiring fashion, none more impressive than a 17-14 victory against Eudora. The Thunder trailed 14-0 with five minutes left to play, and Keyes recalls someone in the huddle rousing teammates, letting them know the deficit was not too much to overcome.
Despite his five interceptions on the night, Keyes wanted the ball. He craved the responsibility, and St. James roared back to win with a field goal in the closing seconds.
Keyes has wanted the ball in his hands all season. He finished with more interceptions this season (12) than touchdowns (11), but he always wants to be the one making plays. On the ground, Keyes demonstrated his multidimensional talents this season by averaging 52 rushing yards per game with five touchdowns to go with his 109 passing yards per game. He usually isn't the fastest or the biggest player, but he always gets the yards.
On the St. James baseball team, which has won two consecutive state championships, Keyes is a pitcher. Quarterbacks coach Matt Joshi finds that comically fitting.
"As his position coach, what I respect the most about him is that no matter what happens, he always loves to have the ball in his hands," he said.
Keyes will approach the junior varsity players after games and make an effort to go over the game with them. If they lost, he'll ask them why. They had better have an answer.
Though this year is about setting a new bar, the class of 2013 has done everything it can to make sure this is the start of something special.
"I think our core group of seniors would do anything to help one another," Keyes said. "We kind of started out low in the program and worked our way up. We started out having average season, average season. Now, we've got to the point where our group of 12 or 13 is the face of the program and we're trying to turn it around."
That group of seniors — Keyes, Tanner Hinderliter, Tom Huppe, Scott Luby, Matt Bierbaum, Cole Orrick, Chris Gomez, Zach McGuff, Pat Muder, Sam Bruning, Jake Wittman and Darin Feist — has seen how far the program has come in their four years and wanted to keep it going.
The Thunder had six graduating seniors last season, so the coaches knew the demands on this class would be great.
"The junior class is the class we really rode on," Joshi said, referring to last season. "We put it on them, an expectation that we need to win. They bought into and put in the work to produce some results."
Last month, in a game at Bonner Springs with immense postseason implications, junior running back Jake Bade did most of the damage on the ground while Keyes once again carried his team to a comeback. He ran for two touchdowns, including the go-ahead score. No one backed down from the moment. No matter how the season's finish is looked at, whenever someone talks about the Thunder becoming a successful football program, it's going to start with this team.
The team that still doesn't have its own home stadium, the team that built a tradition from scratch.
"They want to leave St. James football in a much better place than where they found it," Radke said.
And that changes the perception of the players' role, especially for Keyes. Maybe immortality in sports does exist.