Cell phone may have contributed to accident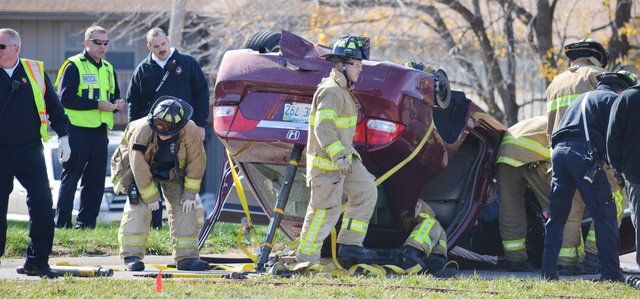 A 71-year-old woman was transported to Overland Park Regional Medical Center Wednesday morning, after the car she was driving was rear-ended and overturned at Shawnee Mission Parkway and Caenen Lake Road.
The woman, Janice Lundy of Yadkinville, N.C., was making a right turn onto Caenen Lake Road from eastbound Shawnee Mission Parkway at about 10:30 a.m., when the Honda Civic she was driving was struck from behind by a Kia Rondo SUV driven by Robert Eklofe, 47, of Shawnee.
The collision sent Lundy's car into a spin, causing the rear wheel on the driver's side to strike a curb, flipping the car over.
Lundy was alert and conscious when Shawnee firefighters and emergency medical technicians arrived. But she had to be extricated from her vehicle.
She was transported by Med Act with possible internal injuries.
Eklofe was not injured.
The cause of the accident, which took place in front of the Savers store, is still under investigation. But according to Capt. Dan Tennis of the Shawnee Police Department, preliminary information suggests Eklofe "was not giving full time and attention to the roadway due to being distracted by a cell phone when the accident occurred."
Both drivers were wearing their seat belts, which probably saved Lundy's life, Tennis added.
More like this story