Police strategy reducing crime, crashes in 75th Street corridor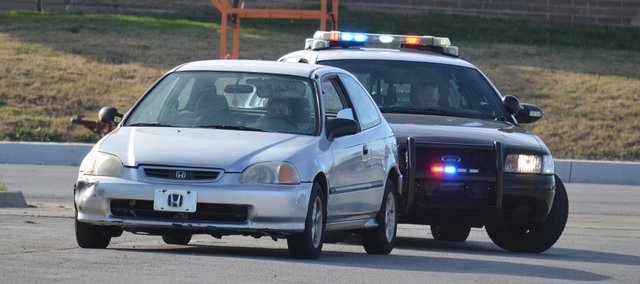 The stretch of 75th Street between Shawnee's east city limit and Quivira Road has long been known for the apartments and retail that line it — plus the crashes and crime that have plagued the corridor.
But during the past couple of years, the crime and crashes have been diminishing in the corridor thanks to a new claim to fame spelled DDACTS.
An abbreviation for Data-Driven Approaches to Crime and Traffic Safety, the operational model was developed by the National Highway Traffic Safety Administration to help law enforcement departments focus their resources on preventing crashes and fighting crime in the areas where they are most prevalent.
The strategy, which involves a highly visible police presence, is based on the premise that high crime areas often overlap with highly crash-prone areas. And after the Shawnee Police Department found that to be the case with the 75th Street corridor between Switzer Street and Quivira Road, it became the first law enforcement agency in the nation to launch DDACTS on a non-pilot basis.
"It's all about the lights flashing and the visibility," Shawnee crime analyst Susan Smith said of DDACTS, which was launched in the 75th Street corridor on July 6, 2010.
Two years later, Smith and other local police officials said last week, the strategy clearly appears to be working.
In the DDACTS corridor, which stretches south of 75th Street to the southern city limits and north to 71st Street, target crimes declined 19.5 percent, to a total of 420 between July 6, 2010, and July 5, 2012, from a total of 522 during the two-year period before DDACTS was launched.
Of the 15 target crimes, three actually became more prevalent during the two years following the DDACTS launch, with the number of sexual assaults increasing most. They were up 88.9 percent to 17 from nine during the two years before DDACTS.
But significant reductions were reported for most target crimes, including a 65 percent decline in robberies (to seven from 20), a 57.1 percent decline in arsons (to three from seven), a 26.1 percent decline in residential burglaries (to 51 from 69) and a 25.8 percent decline in auto burglaries (to 72 from 97).
The DDACTS strategy, which involves deploying three and sometimes more patrol cars in the corridor at targeted times, also is linked to a 30.8 percent decline in injury accidents, to 18 during the two-year period following the DDACTS launch from 26 during the prior two years.
During the same span, total traffic crashes were down 10.7 percent in the corridor.
Greg Collins, a planning and research manager for the police department, said that prior to DDACTS's launch, the 75th Street corridor, which takes in only 2 percent of the city's land mass, accounted for 13.1 percent of all traffic crashes, 15.2 percent of all crimes against persons and 17.4 percent of all property crimes in the city.
Since DDACTS's launch, Smith added, many criminals have likely traveled elsewhere to commit their crimes.
"But even if there is some displacement," she said, "it is never going to be one to one. All the research shows that criminals who are deterred in one area don't offend at the rate they would have (if they hadn't been deterred)."
According to Smith, Shawnee's success in reducing crime and crashes through DDACTS is attracting attention from around the world.
Smith will be making a presentation on DDACTS in Australia next week at the request of that country's national police.
Domestically, Shawnee Police Chief Larry Larimore gave a presentation on the strategy at the International Association of Chiefs of Police annual conference last month and Shawnee Deputy Chief Rob Moser spoke about DDACTS before the Ohio Association of Chiefs of Police in September.
In addition, Capt. Bill Hisle has been accepted as a subject matter expert for the National Highway Traffic Safety Administration and has been moderating DDACTS workshops for departments across the country.