KC

Ice Center chipping away at area ice shortage with new outdoor rink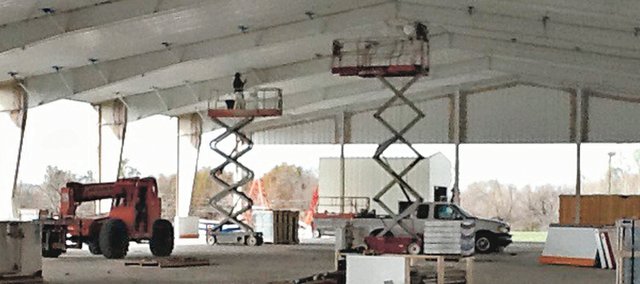 Grand opening
Kansas City Ice Center, 19900 Johnson Drive, will host grand opening events for its new outdoor ice pavilion Saturday, Nov. 17. A figure skating open house, offering free ice time for figure skating club members and families, will be from 9 a.m. to 11:30 a.m. An open house for the general public will be from noon to 3 p.m. An open house for members of the Kansas City Stars Youth Hockey Association and their families will be from 5 p.m. to 10 p.m.
Go online to kcicecenter.com to find more information about open skating times at Kansas City Ice Center and admission.
In the summer of 2011, plans for building a second rink at the newly reopened and renamed Kansas City Ice Center were still largely on ice.
Now, a second ice rink in Shawnee is quickly becoming a reality. In fact, the city's first outdoor rink is set to open to the public Saturday.
"Basically a shortage of ice in the area for kids, for hockey programs and for families and youth," Dean Nelson, Kansas City Ice Center's general manager, said of why the decision was made to open the new outdoor ice pavilion.
A second rink had been a goal of the facility's since it was known as Ice Sports prior to K.C. Rink Management LLC taking over ownership in March 2011 and conducting extensive renovations. Concrete plans for a second rink, however, didn't get under way until after the hockey season ended in March of this year, Nelson said.
Construction on the $1.5-million project, which Nelson said began in August, has included the building of the pavilion that will house the NHL-sized rink — that's 200 feet long by 85 feet wide — as well as the installation of a new underground chiller system that will keep the ice frozen in outdoor temperatures up to about 60 degrees.

"The (concrete) floor that we're putting the rink on will be about 13 degrees," Nelson said.
The rink also will feature a new sound system and scoreboard, as well as seating areas, including a patio with a firepit, along the outside.

Yet to be completed at press time was creating the ice itself, an extensive hourslong process that involves pouring thin layers of water over the concrete, allowing them to freeze and then painting the frozen surface white, Nelson said. He estimated it would take at least 7,500 gallons of water to make the ice, which was expected to be done Tuesday night.
Nelson said he anticipated that the rink would mainly be used for public skating, as well as allowing for more coveted game time for local and regional adult and youth hockey league teams grappling with the ice shortage in the area.
Brad Gardner, originally from Shawnee but who lives in Lenexa now, plays goaltender for local adult D/C-level league team the Ice Rats. He said he was looking forward to the new atmosphere playing outside would add to the games, as well as the scheduling flexibility another sheet of ice would create for the adult teams. Since Overland Park's Pepsi Ice Midwest shut down as an open skating rink early last year, Kansas City Ice Center is the only rink in Johnson County and one of only a small handful of rinks in the Kansas City metropolitan area. With so little ice to go around, Gardner said more priority is given to the youth leagues, which is how it should be.
"But it still kind of sucks when you're getting put on the less desirable ice time," said Gardner, adding that adult games are often scheduled as late as 10 p.m., even on weeknights. "So just relieving some of the pressure; to put some of the adult leagues … on a little more flexible schedule will be a huge benefit."
Nelson said he hoped skating and hockey enthusiasts from throughout the area would benefit from the new rink opening, which he said felt a lot like "opening a new place" of business.
"It really is a big thing for Shawnee," he said. "Hopefully we can really help out the community down here as far as the skating goes."