MVHS

senior's 19 catches last week earn place in state, national record books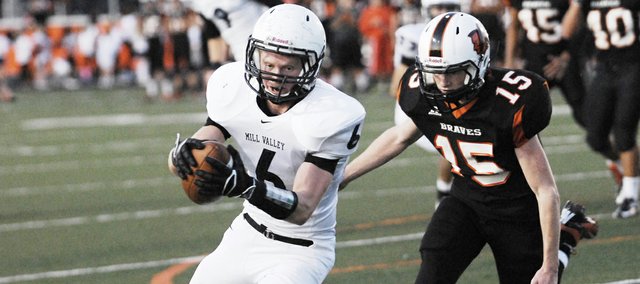 A closer look at the disappointment of Mill Valley's season-ending loss to Bishop Miege last week revealed something else — something historic.
Mill Valley senior Staton Rebeck's 19 receptions tied a state record for most receptions in the game, recognized by the Kansas Sports Hall of Fame. Meanwhile, his nine catches in the fourth quarter are the third-most all-time in the nation, according to the National Federation of State High School Associations.
Rebeck finished the game with 19 catches for 173 yards. His nine fourth-quarter catches came on the game's final drive. Rebeck tied three other players in the Kansas record book, matching a feat not accomplished since 1994.
The 41-23 loss ended the Jaguars' season at 8-2. Mill Valley won the Kaw Valley League with a 6-0 record.
Rebeck led the Jaguars in catches with 53 receptions and finished with 627 yards and eight touchdowns.
Meanwhile, on Oct. 26 against Lansing, junior kicker Connor Mills tied the state record with 11 PATs in a game during the Jagaurs' 77-33 District 2 championship victory. Mills tied a record set in 1989.
Mill Valley will celebrate its season with its annual banquet at 6 p.m. on Nov. 29.