New restaurant offers barbecue 'so tender you don't need teeth'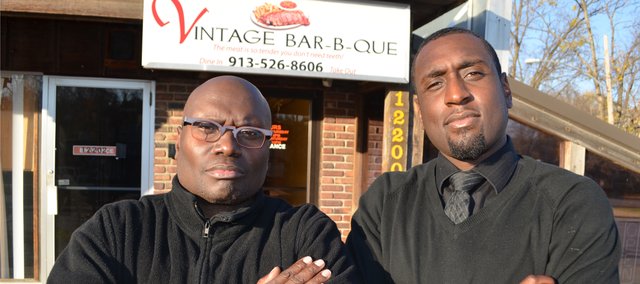 Vintage Bar-B-Que, as you might suspect from the name, started the old-fashioned way.
But eventually, the rave reviews that John Hawkins' backyard barbecues attracted from friends and family fanned the flames of a dream.
Now, with help from his son, John Hawkins Jr., the elder Hawkins is living that dream as owner of the new barbecue restaurant at 12200 Johnson Drive.
The establishment opened two weeks ago in the subterranean space that has proven to be the burial ground for several other restaurants, the last being another barbecue eatery, Char House Barbeque and Fried Chicken. But Hawkins and Hawkins say they have faith that their downhome style of barbecuing will pack a lot of staying power.
According to John Hawkins Sr., it all starts with the tenderness of the ribs and other fare. How they get it that way is a family secret, he added. But trust him and his new restaurant's motto: "The meat is so tender you don't need teeth."
Since opening, Vintage Bar-B-Que has been luring customers with the savory hickory smoke that billows from an outdoor smoker behind the restaurant and a flashy red Kansas City Chiefs catering bus parked beside the building.
And once they get the customers inside, the Hawkinses said, they wow them with their homemade-fresh-daily philosophy.
That applies to the coleslaw, baked beans and potato salad; the sweet-with-a-kick barbecue sauce; the ice tea — actually, everything on the menu.
The menu will eventually expand to include new sauce flavors and entrees, said John Hawkins Jr., a former basketball star at Fort Osage High School who went on to play at Kansas State and Northwest Missouri State universities.
But for now, he said, he and his father are focusing on the basics and getting word of Vintage Bar-B-Que out to those who haven't caught a whiff of the new venture yet.
"As long as I can get out there, knock on doors and call on groups and businesses, I think the rest will be history," the son said.
In addition to drumming up lunch and dinner dine-in business, John Hawkins' Jr. said, he is pitching Vintage's catering and banquet services to businesses, organizations, schools and sports teams. The restaurant can seat up to 89 guests, he said, and a sunroom-style dining area along the Halsey Street side of the building is perfect for private parties of up to 15 or 20.
The restaurant also features a deck out front for outdoor seating and will be hosting live music inside on weekends.
Vintage Bar-B-Que is open from 11 a.m. to 8:30 p.m. seven days a week, said John Hawkins Sr., who knows that long hours and hard work will be critical to getting established.
Fortunately, the owner has lots of help from his son and other employees because he hasn't quit his day jobs yet.
In addition to being a new restaurant owner, Hawkins works for UPS and as a scrub nurse at the Overland Park Regional and Kansas City VA medical centers.