Taking it to the next level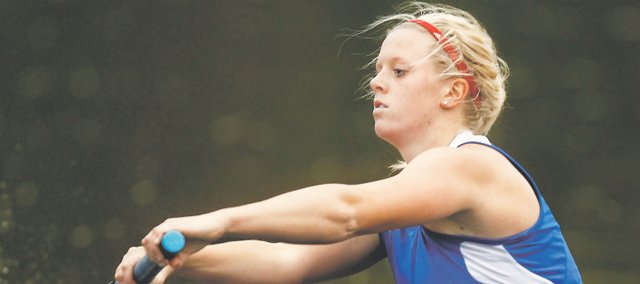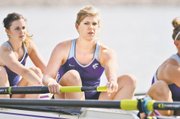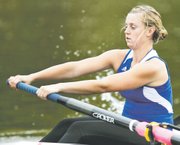 Mary Slattery didn't look to be a basketball player at Kansas University.
The 2012 Shawnee Mission Northwest graduate played basketball and tennis for the Cougars but at 5 feet tall wasn't a candidate for a basketball scholarship at a Division I school like KU.
She enjoyed her sports career at SM Northwest, though, and wanted to continue competing at the next level.
"Sports have always been an extremely important part of my life," she said. "They helped make high school an amazing experience for me. I knew I wanted to get involved in college so sports seemed like the logical place to try to do so."
And she did find a sport she could participate in at the collegiate level: rowing.
"My mom rowed at KU when she was in college so it had always been on my radar as an option," she said. "I decided that if there was any way I could play a sport at KU, I was not going to pass the opportunity up.
"Rowing was that opportunity. I signed up at the rowing booth on Senior Day and went from there."
SM Northwest girls basketball coach Jeff Dickson added: "She knows how to face and overcome adversity with a smile on her face and will be a valuable member of the KU rowing team. There is no one more team-oriented that her."
A person who is 5-feet tall has a perfect position on a rowing team as a coxswain, Slattery's position on the Jayhawks' novice rowing team.
What is the coxswain?
"The coxswain is the person who sits in the back of the boat, facing all the rowers,"
Slattery said. "I am in charge of steering the boat, motivating the team and I am basically the connection between the coach and the team when we're on the water.
"I wear a headset with a microphone and call out the commands, conveying whatever the coaches' strategies for the race are to the team."
KU assistant rowing coach Jennifer Meyers, who is in charge of the novice team, said Slattery is progressing nicely in her first season of college rowing.
"To develop as a coxswain takes the ability to multitask, learn quickly and empower rowers to do things that their minds tell them they can't," Meyers said. "She is the type of individual that we look for when recruiting: individuals that cannot only contribute to our team but the athletic department as a whole."
And Slattery is enjoying her time at KU.
"I wanted to go to KU my whole life," she said. "I've always been a Jayhawk at heart. Once I saw my first basketball game in Allen Fieldhouse I was hooked.
"There is so much school spirit and I love the tradition and the feel of the campus and the community. When I visited KU it just felt like the place I would want to call home."
She is undecided on her major but is in the University Honors program.
Slattery is not the only Shawnee resident involved in rowing at the NCAA level. She is joined at KU by Emma Umbarger (Mill Valley), Carly Iverson (SM Northwest) and Clarissa Holt Bates (SM Northwest).
There are five women on the rowing teams at Kansas State, led by senior three-year letterwinner Adria Ley. She played three years of volleyball at SM Northwest. She was the Big 12 Commissioner's Honor Roll in both semesters last year.
The other four are sophomore Elizabeth DeMars (St. Thomas Aquinas), junior Abigail Harbour (Kansas City Christian), sophomore Chelsea Holt-Bates (SM Northwest) and freshman Ashley Houser (SM Northwest).