Shawnee a well-connected cycling community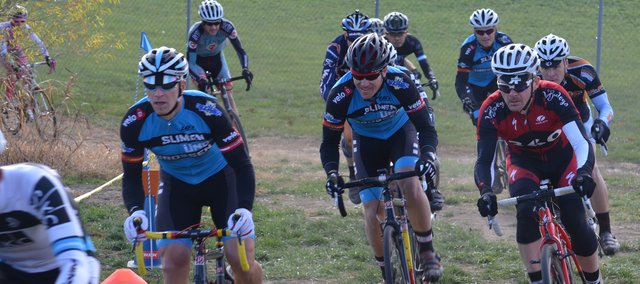 Neil Holman is a web master, though not in the Internet sense.
Rather, as Shawnee's parks and recreation director, Holman has been guiding the city's effort to spin a web of concrete.
The concrete pathways he is responsible for carry pedestrians and cyclists at snail's paces compared with the speeds at which data travels across the World Wide Web. But like those whose mastery involves the information superhighway, Holman knows the most important feature of any web is connectivity. And the trail ties he has helped forge are establishing Shawnee as one of the most popular places to cycle in the metropolitan area and Midwest.
"This community is laid out well for cycling," said Shawnee resident Mark Thomas, who offers local group rides, cyclocross racing and other biking-related activities through localcycling.com, a business he and his wife, Teresa Jarzemkoski, launched in 2000. "I'm more of an urban cyclist myself. But Shawnee also offers lots of country for those who like the open road, and when you add in the streamway trails — wow."
Streamway trail link During its Oct. 22 meeting, the Shawnee City Council approved a nearly $1.2 million contract for construction of the latest strand in the city's hiking-and-biking trail web: a 10-foot-wide, 0.8-mile-long stretch of concrete winding eastward from Woodland Drive.
Known as Phase III of the Clear Creek Pedestrian/Bicycle Trail, its western end will connect with the trail's first two phases, which travel over hill and dale past parks, schools and neighborhoods between Woodland Drive and Kansas Highway 7.
At its eastern end, the new stretch of concrete will tie into the Mill Creek Streamway Park, which includes a 17-mile-long hiking-and-biking trail that extends from Nelson Island in the Kansas River south through Shawnee and Lenexa to Olathe.
In 1986, Johnson County voters approved a half-mill property tax increase to fund the land acquisition, construction and maintenance costs associated with development of trails along eight streams in the county. And Mill Creek was selected for the pilot streamway park project, largely because it was adjacent to the largest park in the Johnson County Park and Recreation District system: Shawnee Mission Park.
On-street, off-road routes
With the popularity of hiking-and-biking trails being driven by factors including rising fuel prices and health consciousness, Holman said, Shawnee began building on the county's trail system through a combination of off-road trails — like those that follow Clear Creek, Blackfish Parkway, and Lackman, Mauer and Monticello roads — and on-street alternatives.
The latter include multiple Share the Road routes, where signage reminds motorists to be on the lookout for cyclists, and a growing number of 4-foot-wide on-street bike lanes.
The longest on-street bike lane currently serving cyclists in the city runs for several blocks along Woodland Drive from Shawnee Mission Parkway north to Charles J. Stump Park, which hosts many of the cyclocross races localcycling.com offers every fall and winter.
Woodland Drive, one of the most important links in the web Holman is helping to create, will also become home, in its 6100 block, to a future recreation center with an indoor pool, Holman said.
Once the latest phase of the Clear Creek trail is completed, it will allow children in adjacent neighborhoods between Mill Creek and K-7 in western Shawnee to safely walk or bike to the recreation center site and to the campus just west of it, at Monticello Road, that includes Clear Creek Elementary, Monticello Trails Middle School and Mill Valley High School.
"That's the vision: trails that are recreational but also provide transportation," Holman said.
The end game, he said, is the development of park space within a third of a mile of every home in Shawnee and safe walking and biking pathways that link together all schools, parks and other public places.
Part of a larger web
By the time Shawnee reaches that point, its trail web will be connected to those of other cities through the larger Metro Green greenway system, added Holman, who serves on the Mid-America Regional Council's Bicycle-Pedestrian Advisory Committee.
"We are working on a big loop around the entire metro area," Holman said, noting that a trail along Interstate 35 will one day link Johnson County and downtown Kansas City.
Meanwhile, plans are being made to extend the popular Katy Trail 15 miles east to St. Louis and 80 miles west to the Kansas City area, he said.
Closer to home, Shawnee plans to extend its Clear Creek trail west of K-7 to Clare Road, serving Belmont Elementary along the way, then southwesterly past Mize Elementary. Ultimately, Holman added, the trail will extend to far western Shawnee's border with Lenexa, where it will connect with that city's trail system.
Shawnee was the first city in the Kansas City area to draft and adopt a bicycle transportation plan that incorporates both on-road and off-road bicycle routes. And as a result of that plan and early steps toward implementing it, the city was named one of Kansas' first Bicycle-Friendly Communities by the League of American Bicyclists in 2003.
Grants, sales tax paving way
Holman's grant-writing efforts have secured roughly $3 million in federal funding, covering nearly 80 percent of the cost of the Clear Creek trail's development and furthering the city's standing as a cycling mecca.
But Holman said future trail development could grind to a halt if Shawnee voters do not extend Parks and Pipes, a one-eighth cent city sales tax scheduled to expire in 2015. Proceeds from the tax are split evenly between park and stormwater projects, Holman said, and the parks portion has been used to satisfy the 20 percent matching fund requirements that have been necessary in attracting federal grants for trail development.
According to Holman, Shawnee conducts needs assessments among its residents every five years, "and hiking and biking trails are always the No. 1 thing people tell us they want."
In the process of fulfilling that demand, the city has created a hip new cycling culture, said Thomas of localcycling.com.
While building his business to include cycling events in five other metropolitan areas, Thomas has seen Shawnee become one of the most popular cycling venues in the Kansas City area due to its annual Tour de Shawnee rides plus events his company sponsors.
Those include free weekly group rides for bicyclists of all skill levels starting from Shawnee locations including Bates City BBQ, Scooter's, and Aunt Jean's Gelato and Coffee.
In addition, localcycling.com sponsors cyclocross racing on challenging 2.5-mile courses laid out in Stump and Herman Laird parks during the September through February cyclocross season.
Developed as a means for keeping competitive cyclists fit during the winter, cyclocross has become "the growth area for cycle racing," Thomas said. And Shawnee has become a leading cyclocross venue, attracting entrants from across the Midwest with its challenging courses and the partylike atmosphere created on race days, he said.
Cycling and recycling
To pay Shawnee back for the use of its venues and to help introduce cycling to new generations, localcycling.com has been volunteering its services for a new city program called Keep the Wheels Turning, which repairs and recycles bicycles for needy children.
The program, which also involves the Shawnee Rotary Club, was launched last year and will have distributed about 230 bikes by the end of this year, Holman said.
An official with Catholic Charities cried when the program presented 60 bicycles to tornado victims in Joplin, Mo., last year, Holman said. And the 80 bikes it is preparing to donate to the Johnson County Christmas Bureau are expected to spawn more tears of joy this holiday season.
"We have bikes donated every week," said Holman, surrounded by a sea of bicycles in a former fire station bay. "Without this program, these would all be thrown in the dump."