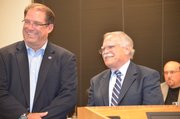 "No," Shawnee Mayor Jeff Meyers told the Dispatch, he wasn't sorry for parking in a handicapped space at City Hall during a City Council meeting this week.
Nevertheless, City Hall issued a press release saying that Meyers had "commented that he should not have parked in the designated spot." The release also said Meyers had decided to donate $135 — his fine, had he been ticketed for the infraction — to the Mayor's Christmas Tree Fund.
Meyers said he decided to park in the handicapped space after arriving late for the Nov. 13 meeting, during which several city employees and volunteers received service awards. Finding the parking lot otherwise full due to the large number of honorees and family members attending, Meyers said, "I made the decision that I would park there and accept whatever consequences occurred in order to get the meeting started."
Meyers told the Dispatch he wasn't sorry for parking in the space because three of the four handicapped spaces in front of City Hall remained vacant after he parked his truck.
"I wasn't trying to keep someone handicapped from being able to find a spot," he said.
But in the release issued after the Dispatch interview, the mayor said, "In retrospect, it probably wasn't the best decision. It won't happen again."
Following the City Council meeting, the parking violation was brought to the attention of Shawnee Police Chief Larry Larimore by former Shawnee City Councilman Kevin Straub.
Though Straub no longer resides in Shawnee, Meyers said, "he's looking for anything and everything (to criticize the city for)."
Chief Larimore did not ticket the mayor but issued a written warning the following morning.
Mark Greene, a Shawnee resident with disabilities who ran for state senate in the recent election, criticized both the mayor and police chief for setting bad examples.
Greene, who serves on the Johnson County Transportation Council and recently launched an advocacy group called Disabled Speak Up and Be Heard, said he thought Meyers should have been ticketed regardless of who brought the infraction to the police chief's attention.
Greene also balked at Meyers' no-harm, no-foul argument, saying the number of spaces reserved for disabled motorists at any given location is determined by government agencies and should not vary at the discretion of nondisabled motorists looking for a place to park.
"I don't think, as the mayor, that he set a very good example," Greene said. "If he doesn't have the plates or placard indicating he has a right to park there, he shouldn't park there. If he, as an elected leader, decides, 'Hey, I don't have to follow these rules,' other people will decide they don't have to follow the rules."
Greene, who was born with spina bifida and uses a wheelchair, said he had been unable to find parking spaces on many occasions because of disabled spots being taken by unauthorized users.
"A lot of times, I will just wait for them to come out and confront them," he said.