Church members flock to apartments bearing free chickens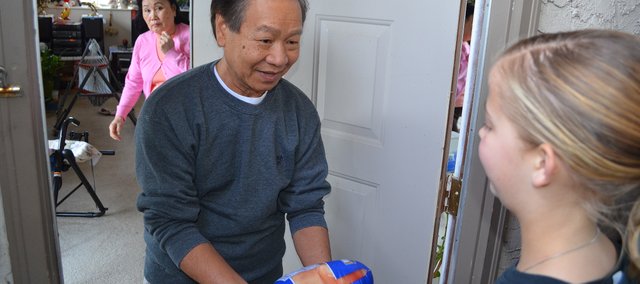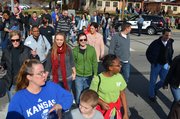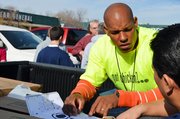 The staff at New City Church was pondering the possibilities for a Thanksgiving-related community service project recently, when the idea of passing out turkeys in neighboring apartment complexes got some pushback.
"We are at the corner of 75th Street and Nieman Road, so we're surrounded by apartment complexes," said Chris Moix, the church's campus pastor. "And about 50 percent of the apartment residents are Hispanic. But we have a Hispanic person on our staff, and he said, 'Thanksgiving is your holiday, not ours. If you put a turkey on our doorstep, there's a good chance we won't know what to do with it.'"
Thus, the church staff ultimately decided to hand out 800 frozen chickens to residents of the Haverford West, Thomasbrooke, Westbrooke Glen and Retreat of Shawnee apartment complexes last Sunday.
Of course, no chickens were left on doorsteps due to food-safety concerns. Instead, lead pastor Matt Miller said, New City Church worked with the apartment complex managers, who notified members of each household to be home shortly after noon Sunday if they wanted to receive their free frozen chickens.
The chickens were purchased by the congregation, which normally donates a total of about $5,000 each Sunday but filled the offering plates with $13,000 two Sundays ago, when the plan to purchase the chickens was announced, Moix said.
Then, shortly before noon last Sunday, about 400 members and trucks containing the chickens assembled outside the church, which is located in the former Trailridge Cinema space at 7456 Nieman Road. From there, the church members headed west on the sidewalk along 75th Street to a crosswalk near Flint Street, where two Shawnee Police vehicles blocked traffic so the members could walk safely to the three complexes they were serving on the south side of 75th Street.
All residents who were home at those complexes and Westbrooke Glen on the north side of 75th Street received chickens with no questions asked about income level.
"We decided it doesn't matter if they need the chicken or not, " Moix said. "We teach our people to be generous with no strings attached."