Mill Valley boys among
KVL

favorites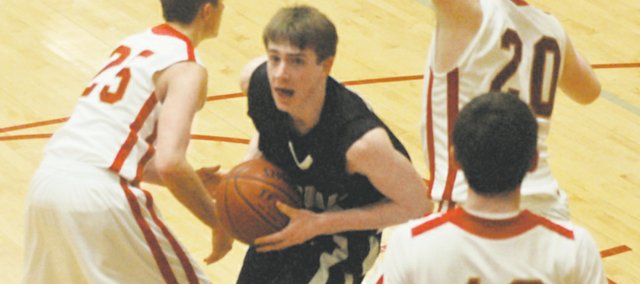 Circle these dates
• Nov. 30: at Piper
• Dec. 4: at Gardner-Edgerton
• Dec. 14: vs. SM South
• Dec. 18: at Lansing
• Jan. 8: at Basehor-Linwood
• Jan. 14: vs. St. Thomas Aquinas
• Jan. 23: at De Soto
• Jan. 29: vs. Piper
• Feb. 15: vs. Lansing
• Feb. 22: vs. Basehor-Linwood (senior night)
Follow our coverage online and on Twitter (@shawneedispatch) using the hashtag #ShawneeSports. Join the conversation and add your thoughts and photos from the games.
Mill Valley head coach Justin Bogart has a luxury when it comes to his seniors.
He said it is one of the hardest working groups of seniors he's had while at Mill Valley. He's never had to get on their case about effort.
"It's a group of kids that you can put down at one end of the court when you're working with other players and you know they are going to go to work if you want them to shoot free throws or if you want them to run sets or get up a lot of shots," Bogart said. "They're going to break a sweat doing it, and that's a luxury to have as a coach."
He and the other coaches expect the seniors to assume a leadership role, but it depends on their personality and how they express that leadership. He said most of the seniors lead by example on the court.
Senior forward Nathan Stacy, who led the team in scoring and rebounding with 21 points and 10 rebounds per game last season, is considered to be a humble leader. Bogart said he not only has a lot of accomplishment in basketball and in the classroom, but he is a very good pianist, too.
"We encourage Nathan to be more of a vocal leader," Bogart said. "The kids look to him as our go-to player, and I think off the court they look at him as just a great citizen. He's just looking out for others everywhere else. He's an excellent representative of our high school and community."
Junior Drew Boatwright should be able to take some pressure off of Stacy with his perimeter shooting. Boatwright averaged 7.9 points per game in his first varsity season. Bogart thinks having that year under his belt will make him more comfortable and give him an understanding of how hard he has to play.
Last season, the Jaguars weren't able to get Boatwright enough shots, and they hope to have better perimeter shooting this season. Doing so will help extend defenses and alleviate the pressure off other scorers.
With eight returning letter winners and three more additions in the offseason, the competition for minutes will be fierce. The Jaguars didn't graduate anybody last year.
Bogart said sophomore Pat Muldoon went from a junior varsity player to a prospective starter. He said senior Kyle Kain has improved his guard play and will be competing for minutes, especially if he knocks down his outside shots. He's a quick and explosive guard, who will complement junior Wyatt Vorhees nicely.
Vorhees, however, won't be eligible until January after transferring from Bishop Miege.
"Wyatt brings a different level of intensity in playing basketball," Bogart said. "He's one of the fastest players with the basketball I've ever seen. He goes hard, always. His ability to get left or right or up and down the court is remarkable."
Vorhees brings a sense of joy in playing the game and is always talking in practice. Bogart said he fits in well with the other players.
Mill Valley also added Logan Koch, who is the lone freshman on the team. Bogart said he brings really good guard skills and will be a nice addition to the team.
"We have the first half of the season to get deep into that bench," Bogart said. "Because we carry so much depth, it'll be interesting to see how it plays out. As (Kansas University men's basketball) coach (Bill) Self says, that bench gets shorter as the season goes on, and I tend to agree. You need to have a nice rotation. Kids need to know what that rotation is going to be. There needs to be a rhythm in the second two-thirds of the season."
The last half of the season will be a gauntlet with league games against 4A State champions Basehor-Linwood, 5A fourth-place finisher Lansing and a team in Piper that Bogart has pegged a dark horse this year.
With all five starters returning, Bogart doesn't want to think about the future.
"We don't worry about winning," Bogart said. "We worry about ways to win. There are expectations in this year that this team could be very special. We have not done anything the last two years to say we are entitled to anything like a league championship or a berth in the postseason. We have to go out and work hard everyday and prepare ourselves when those opportunities come."
Mill Valley has only six non-league games, and Bogart thinks the schedule is more difficult, which will make the Jaguars better for the postseason.
The second game of the season is on Dec. 4 at Gardner-Edgerton, a tough and rugged 6A squad. On Dec. 14, Mill Valley will host Shawnee Mission South, a team heavy on quick guards, which can pose a threat. The Jaguars also will play at Olathe Northwest on Jan. 25 — the Ravens went 22-2 last season.
Mill Valley also will return in January to a tournament in Coffeyville, where it placed second last year. It will feature Coffeyville, which made a run in the 4A State tournament last year, and a few schools from Oklahoma that are the size of Mill Valley.
Bogart likes going down there because he doesn't know much about the other teams and it shows how they will have to adjust their games. Once they get down there, though, each team will be scouted.
"We haven't put a league ring on our finger, and we haven't put a state championship ring on our finger," Bogart said. "We have a lot of work to do still."