Mill Valley girls bring back Kaw Valley title team's starting five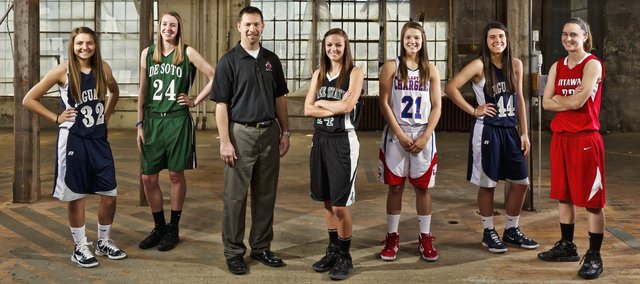 After setting a school record with 18 victories last season and being on the cusp of the state tournament, the Mill Valley girls basketball team will try to build on a season in which it won its first Kaw Valley League championship in school history.
The Jaguars return seven letter winners, including all five senior starters. Among them are Tanner Tripp (14.4 points per game) and leading rebounder and second-leading scorer Stephanie Lichtenauer (12.6 points per game and 4.5 rebounds per game). Both were First Team All-League and honorable mentions for All-State.
Head coach John McFall said the girls would like to get to state.
"That would be something I would hope they get to do," McFall said. "It's such a neat experience. That's one thing I like about my girls: They're competitive, they're hungry. I know they want to get better."
But McFall's not looking too far in advance — he's not even talking about winning yet.
Instead, at this point, McFall is stressing competition and each player doing her job. He wants his players to understand what they need to do.
"I tell them good things happen when you take care of business," McFall said.
He thinks his team is undersized but can compensate for it by guarding, blocking out and making sure its opponents don't shoot until they score.
The Jaguars pride themselves on defense. Last season, they gave up 40 points only three times to opponents, and two such occasions came in the first two games of the season.
He said the reason they won 18 games wasn't because they shot the ball well, it's because they guarded on a consistent basis.
"When we shot the ball well, we were really good," McFall said. "If we didn't shoot the ball well, we were right there in position to win the game. Our girls understand we hang our hat on defense."
McFall hopes the shots fall a little more this year. He said Tripp is a good shooter and that she's bringing her game to another level.
Tripp, along with Lichtenauer and senior captains McKenzie Koch and MacKenzie Conklin, are the leaders of the team. Senior Brooklyn Slope is right there too, rounding out a starting lineup heavy on experience.
"McKenzie Koch is one of those unsung heroes," McFall said. "She's the one who we can run at the one, two, three, four or five. We can run her in any position and she guards. We put her on the best perimeter player of the other team, and she does a fantastic job at that. She also passes very well. She's very unselfish."
Lichtenauer is not only a good rebounder, but she is a threat with her back to the basket.
Conklin is the team's point guard and one of its top leaders. She's feisty and takes good care of the ball. Meanwhile, Koch led the team in assists and had a 2.5 assist-to-turnover ratio.
Juniors Mary Altman and Carly Eaton return and will be the first off the bench, and the Jaguars add senior Molly Miller, who has been on junior varsity for the previous two seasons.
"(Molly's) made our team better the last two years being on JV because she won't back down for anybody," McFall said. "She'll guard, she'll knock people on the ground. She's a feisty defensive player and has gotten better and better. She's a great worker."
McFall doesn't shorten his bench like some coaches do. He's been comfortable as a seven-player coach, but if there's an eighth or ninth player that can contribute, he'll go eight or nine deep.
He'll get a good feel for how deep he'll have to go with the nonleague schedule, which will be difficult. Mill Valley plays Shawnee Mission South, Blue Valley Northwest and Gardner-Edgerton this season. All but SM South are 6A schools, with the Raiders having moved from 6A to 5A in September.
"That's good for us," McFall said. "We go to the El Dorado tournament and see some different teams down there. We're scheduling people that are going to be tough.
"If you ask our girls, they had a great time in El Dorado last year. High school basketball is about your experience. That tournament is a neat experience."