Never been hungrier: Back from injury,
SMNW

senior seeks magic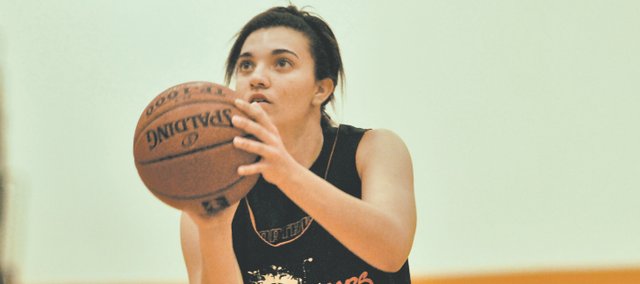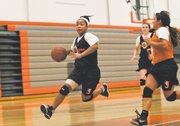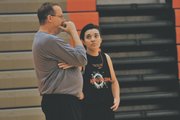 No days off until winter break
SMNW senior Anna King said she wants the Cougars to start 6-0 entering winter break. A look at the first half-dozen of the season.
• Nov. 30: vs. SM West — The Cougars open the season with a rematch of March's sub-state final, which SMNW won, 53-49
• Dec. 3: at SM North —SMNW won all three of its games against its top rival. This will be Anna King's return to playing on the SMN court for the first time since tearing her ACL during a fall league game.
• Dec. 6: vs. SM East — The Lancers won both of the two teams' matchups last year.
• Dec. 11: vs. Washington — SMNW cruised to an 88-19 victory last season.
• Dec. 15: at Washburn Rural — Washburn Rural went 14-8 and advanced to the postseason, while also possessing a 3-2 record against the Sunflower League.
• Dec. 17: at SM South — The Cougars will meet their second playoff team in as many nights when they meet the Raiders, who went 13-8 last year and went 2-0 against SMNW.
Shawnee Mission Northwest girls basketball coach Jeff Dickson couldn't hide it even if he wanted: Senior Anna King, out last season with a torn anterior cruciate ligament, is back. And she's ready to run.
Dickson considered acting like King was still banged up, as if she wasn't yet the player she was before tearing her left ACL and both menisci during a fall league game last September. But after a grueling summer in which the Cougars logged nearly 40 varsity games between sites like Oklahoma State University and Emporia State University and considering the speed with which King hit the court this fall? Trying to conceal her effectiveness would've been a fool's errand.
"If anybody thinks that this is a kid who isn't going to be what she was before," Dickson began one night during the first week of practice, "I hope they have that in their mind because they're going to be in for a really rude awakening. She's going to come out and be one of the best players in the state this year."
The injury prevented King from following up a breakout sophomore season when, at 5-foot-8, she averaged a double-double and was named Second Team All-Sunflower League.
Worse still, it relegated her to the sideline as the program reached its highest height: a sub-state title and trip to the state tournament. Everything she worked for — and a final chance to play with then-seniors Katie Biggers, Jessica Johnson, Sarah Schmidt and Mary Slattery — could only be realized as a spectator.
When the Cougars crowded around their sub-state trophy last March after defeating SM West at Blue Valley North, King finally let go, tears of sorrow and happiness sharing the same stream down her face.
That sub-state triumph, January's Truman Tournament victory (where King shined the previous season) and simply watching her teammates shout encouragement during sprints dug three cuts deeper than any surgical incision.
"When I look at it, I can't be concerned with how many points I put up this year," King said. "I'm just happy to be out here playing."
She'll still get hers on the stat sheet, to be sure. At just 5-8, King was the tallest player on a 7-14 2010-11 team that finished one basket shy of state. Despite her size, she still brought down about eight rebounds per game. Though still able to crash the boards, King may not need to with the emergence of taller post players like Sydney Thompson and Tatum Graves, the former being one of King's personalprojects a year ago.
"I thought to myself, 'If this girl is going to take on the role that I wanted, I'm going to make sure I do everything in my power so she can do her best at it,' because I still wanted to contribute to this team somehow," King said.
The varsity squad King returns to looks much different than how she remembers it. Speaking recently, she said she is still interested to see what it is she'll need to contribute the most. If she needs to haul in eight rebounds a game, fine. If she needs to be the leading points scorer each night, that'll work.
"You may see her playing any position on the floor," Dickson said.
After practice one Thursday, King had little trouble drumming up excitement when talking about her new-look team. She said Arielle Jackson, a sophomore, has taken the reins of the point guard position in a way few underclassmen can grasp even at the JV level. Thompson and Graves, and junior McKayla Ross, are also part of a deep pool of talent expected to pick up where last year's leaders left off
Despite an early exit in the state tournament in Wichita, Dickson said the Cougars were pegged by many as one of the top five teams in the state. That, he said, will be precisely where SM Northwest begins this season.
"I see us as a deeper team than we were last year," Dickson said.
An added equation will be the addition of a promising freshman class, headed by Brenni Rose, whom Dickson called as talented a freshman as there was in the city.
When King says she wants the Cougars to start 6-0 before winter break, it's more than just preseason optimism speaking. The path to state grows more difficult this season in that the top-seeded sub-state teams can host the final if they earn a first-round victory.
Build a cushion early playing in one of the state's strongest leagues, and the Cougars can do a lot toward reprising last season's run.
This time, King figures to do more than shout from the sidelines.
"You think about your moment, seeing every dream you had, having to sit there watching. … That was extremely difficult for her and she hid it well," Dickson said. "There couldn't be a kid in the world more hungry to get on the floor and have an opportunity to play. It's going to be an extremely emotional time for all of us when she can do that."