Police officer's actions save local woman from overdose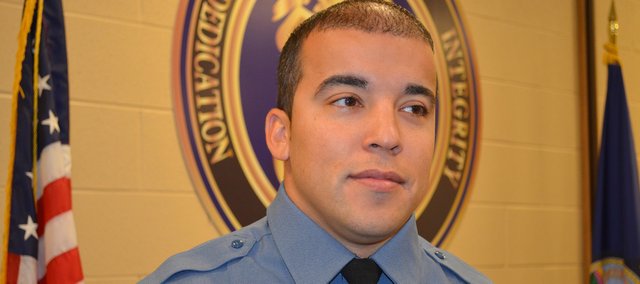 Shawnee Police Officer Justin Cobb said he feels rewarded to have given a suicidal woman "another chance to think about her choices."
Cobb was on routine patrol Nov. 9 in the 7400 block of Martindale Road in western Shawnee when he found the 54-year-old resident.
The officer spotted the woman's SUV at 11:09 p.m. and initially thought it was unoccupied.
But when Cobb got out to investigate the vehicle, which appeared "out of place" on the side of the road in the remote area, he saw the woman lying in the back seat, he said.
Cobb's first thought was that the woman was sleeping. But after banging on a window and shouting failed to rouse her, he opened an unlocked door and found her breathing but otherwise unresponsive.
In addition, the closer inspection revealed the woman had vomited and had fluids coming out of her nose, the officer said.
Cobb immediately notified Johnson County Med-Act, which transported the woman to a local medical center for treatment of an apparent prescription drug overdose.
The officer said an empty bottle of Klonopin, a drug used to relieve panic attacks, was found in the vehicle. And a subsequent investigation determined that the pills had been obtained with a prescription filled a couple of days before the incident, he said.
Cobb said the woman had visited her parents' home in an upset state on the night she was found.
Later that night, the elderly parents came to the police station to thank him for finding and saving their daughter, he said.
"Officer Cobb's attentiveness to duty and quick action surely saved the victim's life," Shawnee Police Capt. Dan Tennis said. "Needless to say, the Shawnee Police Department is very proud of Officer Cobb."
"For whatever reason, I was in the right spot at the right time," Cobb said. "It's always good when you can go home at night and say you've changed somebody's life for the positive."
More like this story