SM

North band students positively sounding off on earplug program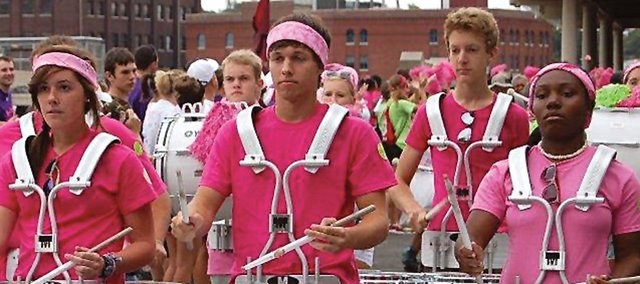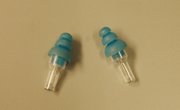 Pounding away on a drum can take a toll on anyone's hearing.
But Shawnee Mission North band students have been given an opportunity to help reduce the risk of hearing loss through Etymotic Research, Inc.'s Adopt-A-Band program.
The program allows sponsors to adopt a band or music group — providing the company's high-fidelity earplugs to students at about half the original retail cost of $12.95 — at different sponsorship levels, ranging from initial fees of $60 for 10 pairs of plugs to $600 for 100. The program was brought to SM North last school year, band director Chad Reed said, courtesy of sponsors, the Shaw-Mi-No band booster club, which purchased 100 plugs. Students then purchased the plugs, at about $6 a pop, as they chose.

Reed said he thought the program would be highly beneficial to his students, especially given the state of his own hearing after 20 years of directing high school marching bands.
"Oh, yeah, I (couldn't) take it anymore," Reed, who now uses the plugs, too, said of how it was for him during drum line rehearsals. "It's a strikingly painful sound."
Instead of muffling or deadening the noise like other earplugs, Etymotic's flexible, cone-shaped plugs "use a unique construction that reduces sound levels evenly across the frequency range without changing the clarity of speech or the richness of music," said Patty Niquette Johnson, an audiologist with Etymotic, which is based in Illinois.
She said both the intensity of sound and the length of exposure to the sound can contribute to hearing loss. Without any kind of ear protection, drum line students playing in a rehearsal are at risk to suffer temporary or even permanent damage to their ears after only about five minutes, she said. In an entire marching band performance, damage can set in after a matter of seconds.
Reed said about 90 students in his band ensembles currently use the plugs, including junior Andrew Bonci, who plays guitar in the jazz ensemble. Andrew said he chose to purchase the plugs because he sits right in front of the drummer, "and the cymbals can get very loud." The plugs change the sound he hears slightly, he said, but they were also an effective way to protect his hearing.
Thomas Row, a senior who plays snare drum in the drum line, agreed.

"I think they're really nice, especially for indoor practice, because … with the drums, it gets really loud really fast," Thomas said.

And there's another benefit to the plugs, too, he said.
"It makes (it) so we can hear our drums better and not hear the echoes as much," Thomas said. Without the plugs, "it makes it hard to tell if we're playing cleanly or not."
Andrew and Thomas are demonstrating a proactive attitude that's not always so common among others their age, said Teresa Kennalley, an audiologist and professor with Kansas University Medical Center's School of Health Professions. She said she advocates for the kind of filtered, but effective, ear protection Etymotic earplugs can provide musicians, and even helped introduce the program to SM North. As preparation, she took decibel measurements during a band rehearsal at the school and said she noted levels as high as 114 decibels. The safety range, she said, is under 80.
"As a high school band student, it's always going to be a harder sell," Kennalley said. "They don't think that they can ever get damage to anything. They don't really realize the impact to these things."
But there is an impact, even though it's not always noticeable right way, she said. Ringing in the ears or other temporary hearing problems may go away after a loud rehearsal or performance, but "research is showing us that ... it may actually be doing permanent damage to the structures in the inner ear that's going to cause problems for them later on."
Giving students the education they need so that they can make safe choices when it comes to their hearing is part of the deal with Adopt-A-Band, said Carolynn Tavis, who heads Etymotic's Adopt-A-Band school outreach. Another tool participating students receive is a pocket-sized sound rule information card that shows the sound levels emitted by different instruments and the amount of exposure that is safe with and without earplugs.
"Our whole thing is we're selling a solution but our main goal of Adopt-A-Band is not to sell earplugs, it's to raise awareness; it's to educate the kids," she said. "So if they don't wear our earplugs, that's fine. Just wear something and know the risks."
That goes for band directors, too, said Reed, who noted he could have used plugs like Etymotic's a long time ago.
"I wish I had them when I went to those rock concerts in college," he said. "I think every high school band director should wear them, because we never do graduate. We're around this for decades and it does take its toll."
For more details about Adopt-A-Band, go to etymotic.com/adoptaband.
More like this story