SMNW

blood drive draws community support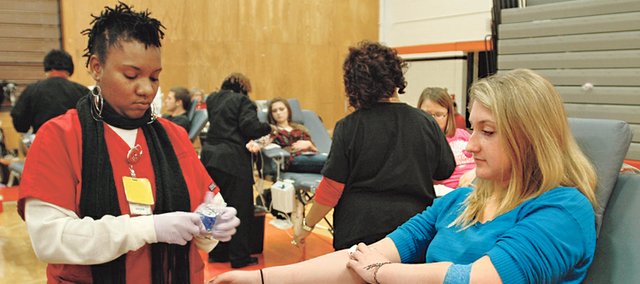 Angel Howard's first time donating blood was a couple of weeks ago, and it wasn't scary at all, she said.
"It was really fun," the Shawnee Mission Northwest junior said after giving blood Nov. 6 during the school's annual fall blood drive, hosted by the student council in partnership with the Community Blood Center of Greater Kansas City. "I thought it would be a good idea because I like the idea of saving a life if someone needs blood, because I wish someone would do that for me, too."
That pay-it-forward attitude was a significant factor in drawing 229 students, teachers and community members to the school's main gym to donate blood to the center, which is located in Kansas City, Mo.
Sarah Dent, student council sponsor, said 149 of the donors were first-timers.
"We're really proud of our kids who are trying to donate blood because it can be really scary for some people who have never had this experience before," she said.
Most of the donors were students, and that's typical, Dent said. But student council organizers also tried to inspire more community participation this year. To a small degree they succeeded, drawing an estimated 15 community members.
"Even though that doesn't seem like a ton of people," Dent said, "it's more than double what we've seen in the past. We're excited to see if we can continue to build upon that success to draw in additional community members."
Student-organized blood drives have been held at Shawnee Mission schools, including Shawnee Mission North, for a number of years. Dent said the student council at SM Northwest had organized annual blood drives for the past eight years.
Blood collected from the first blood drive was donated to the Red Cross, Dent said. Seven years ago, however, the decision was made to begin donating to the Community Blood Center, which services hospitals throughout the Kansas City metropolitan area, said Rosemary Slaughter, a donor care technician who was assisting at the blood drive.

That's a big incentive for students, Dent said.
"I think one of the biggest things that we hear from kids is the Community Blood Center donates the blood right here in Kansas City," she said. "And it's really a means for these kids to do something that they've never done before that is literally going to impact people that are living right next door to us."
Slaughter said the center heavily depends on school involvement to keep the blood flowing to those who need it — she even referred to the week of the Nov. 6 drive at SM Northwest as "buffer week," when the center visits "nothing but high schools" to conduct blood drives. In addition to Shawnee Mission, the center that week visited schools in the Olathe and Blue Valley districts.
"We have to collect at least 500 units a day," Slaughter said, to meet the needs of area hospitals. "The more kids the better."
At the blood drive, the center collected whole blood units, which offer enough blood to help two people in need of a transfusion, as well as double red cell units, Slaughter said. These were taken through an automated Alyx machine, which also separates the platelets and plasma from the blood at the same time. One single Alyx machine donation, Slaughter said, is enough to help four people.
Dent said of the 229 donations, 15 were through one of the three Alyx machines on site at the drive.
Paramount in a number of students' minds as they donated was the thought that they were helping save someone else's life.
That's something to feel good about, said junior Tatiana Darby.
"One of my main goals in life is to help other people. That's something that I'm really passionate about," she said during her whole blood donation. "So by doing this, I'm glad that I get to save two lives."
More like this story