There's so much to be thankful for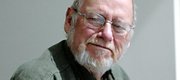 I suppose Thanksgiving is as good a time as any to take stock. After all, that's what the holiday is about.
I've been told that I have a somewhat gruff demeanor, and I guess that's true. But still I have quite a lot to be thankful for.
So, let me enumerate:
Above all, I'm thankful for the love and the forbearance and the patience of a good woman. I list those three qualities together for a reason. Over the years, I've noticed that in the full panoply of man-woman relationships, they don't always go together. Those of us who get all three, I think, are fortunate indeed.
I'm thankful for my three children, all of whom seem to be getting along pretty well, all things considered. I do wish they lived closer — one is in Wichita, another is in Boston and the third is in the Virginia suburbs of Washington, D.C. But at least this way, when we do get together, we savor each other's company to an extent that I think we probably wouldn't if we lived so close that "dropping by" required no particular effort or sacrifice.
And of course I'm thankful for my grandchildren, who are a continual source of delight. The older two are in high school and taking their first, hesitant steps into a grown-up world. The youngest is just 5, and so he's still pretty excited about all that he discovers.
I'm thankful the quadrennial election madness is over. That said, I'm thankful for our much-maligned political system, which is at the same time a source of frustration and of hope — and, always, of humor.
After every election at every level, I'm always amazed and comforted by the way that we sort of shrug off the bad feelings and get on with the business of governing. Our political system has a lot of faults, I know, but I think it's always best to remember what someone said of it many years ago, to wit: Democracy may not be perfect; it's just better than anything else we've invented so far.
I'm thankful that I live in a community that cares about its schools and about helping those less fortunate than the majority of us. Even in these days when government seems to want to shirk its responsibility to care for those at the bottom of the pile, it's comforting to see that churches and other organizations are trying to take up the slack.
I'm thankful that I'm able to enjoy my retirement, and that I continue to enjoy a modicum of good health.
And then, of course, I'm thankful for some things that I could probably better do without — that is, roasted turkey and dressing, mashed potatoes and gravy, pumpkin pie, and all the rest. Happy Thanksgiving.