De Soto district to offer full-day kindergarten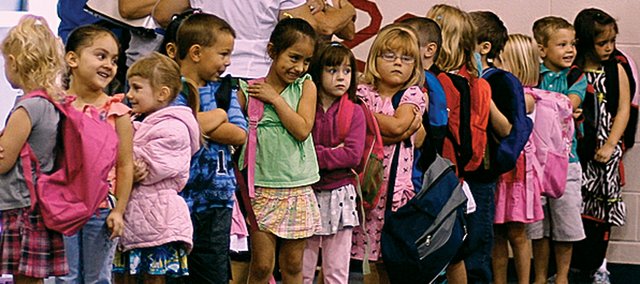 For the first time in the school district's history, De Soto will begin offering a full-day, fee-based kindergarten next school year.
"So the plan is we're going to have a pilot (kindergarten) for next year, and we're going to have a pilot section in every single one of our elementary schools," said Jessica Dain, the district's director of professional and program development.
That means that adjustments may still need to be made in coming years, but for now, Dain said, the plan is this: Each of the seven elementary school buildings will have one full-day kindergarten class that will be able to serve 18 to 22 students. Interested parents can sign their children up for kindergarten during the districtwide kindergarten round-up event in early February 2013. Dain said parents would also have through spring break in March to sign up.
Staff members will then draw names out of a lottery until 22 students have been chosen for each school's full-day kindergarten section, Dain said. If there are names left over at one school after 22 names have been drawn, she said, they would then go into a district lottery and the students would be eligible to attend another school outside their attendance area if their names are picked and there are slots left open.
"But if you go into that district lottery," Dain said, "then transportation isn't going to be provided."
Dain said the goal was to make full-day kindergarten a totally self-funded option for parents, so the fees will be $300 per month. Dain said that amount was determined based on looking at what area school districts such as Blue Valley and Gardner were charging, as well as curriculum and additional staffing costs.
But what if, after school and district lotteries are drawn, there are still students who don't make it into the full-day section? Dain said that might be the case, "but we still don't know that." And since the district has never offered the option before, the plan is to essentially take it slow, Dain said.
"We want to be sure that we implement it the right way, and we want to take our time. And we don't want to get so committed to something that maybe there's some obstacles that come that ... we didn't think about," Dain said. "Because we're calling it a pilot, that's truly what we want it to be. We want to take our time in implementing this important program."
The proposal for full-day kindergarten was brought before the De Soto school board and approved Nov. 12. De Soto has only offered half-day kindergarten, and Dain said requests from parents and teachers to change that were the incentive for coming up with a proposal in the first place.
Information about full-day kindergarten will be sent out to district parents soon, Dain said, and she doesn't yet know what the feedback will be. But looking at this year's enrollment in Johnson County Parks & Recreation District's Kindergarten Enrichment Program, which offers before- and after-school care for students, she expects there will be a lot of interest from parents in a full-day kindergarten option. According to Dain, there are 41 Prairie Ridge Elementary students enrolled this year in the program, for example, and 39 students at Clear Creek Elementary.
"That shows me parents that feel like having their child all day in school is important to their family," Dain said, even with the fees imposed by JoCo Parks & Rec for the program. "There are those parents that are still interested in that all-day option, so that's really my best data."