A home away from home: Studying abroad offers rewards for students, families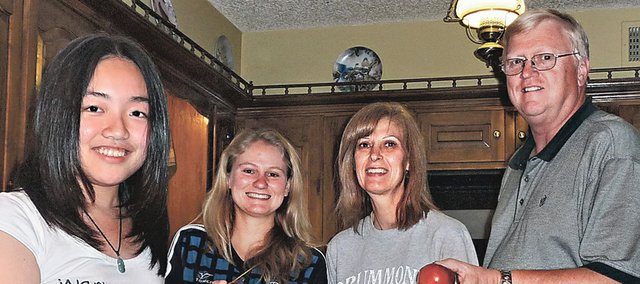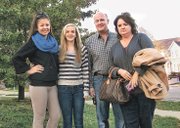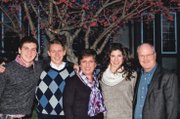 This was her first time in America.
And as Xingya Wang exited her plane at Kansas City International Airport, she was "so nervous" not knowing what to expect from the months ahead — and not knowing English very well, to boot.
That was in August, though, and since then the Shawnee Mission Northwest foreign exchange student from China says her English has improved and she's learning a lot about herself from her adventure abroad.
"I just feel more stronger, and I just handle all things by myself, and I can tell that kind of feelings is magical," said Xingya, who goes by the name Sylvia in the states because she said it's similar to the way her given name sounds, but is easier to pronounce. "You just feel like all the things is in my hand."
Well, that's not entirely true. Sylvia is only 15 years old and still needs parental support and supervision while living thousands of miles away for the better part of a year from her own family.
That's where host parents Lyla and Brian Lindholm of Shawnee came in. Brian Lindholm said this wasn't the couple's first time hosting a student. Last school year, their youngest daughter, Anna, studied abroad in Ecuador.
"So we were going to be without a child (in the house), and we weren't ready to do that. So we hosted a girl from Santiago, Chile," Brian said. "We wanted to do it again because it was such a rewarding experience."
The Lindholms' enthusiasm is typical of area families that have hosted foreign exchange students, said Carol Barney, Shawnee Mission school district's resource specialist for English language learners. This school year there are 31 foreign exchange students in the district, and she's seen that number go up to 44 in the past.
"I think it's because we have some good organizations (such as American Field Service, which facilitates foreign exchange experiences for students) that have really good representatives here who really recruit good families," Barney said. "And then once a family hosts, I think it's almost always such a good experience that they're willing to do it again."
Michelle Duden of Shawnee said that's a definite possibility in her family's case. She and her husband, Derek Duden, are hosting a foreign exchange student — Marinela Koleva from Bulgaria — for the first time this school year. They were recruited to host Marinela by Don Marsolek, a local coordinator with American Councils for International Education.

Michelle said the organization got their name largely because of their son, Josh, a 2012 Mill Valley graduate with a number of academic achievements to his credit.
"He just called us. It wasn't even on our radar," Michelle said. "But Josh went to college this year and Brianna (daughter) was going to be the only one in the house, and she wanted to do it and we said, 'Yeah, that sounds good.'"
Michelle said she's glad they decided to welcome Marinela into their home. Although Michelle was nervous at first, she said, the experience has been such a positive one that she's even considering getting involved as a foreign exchange coordinator for a program such as American Councils.
"I think we'll definitely do it again," Michelle said of hosting.
Marinela is a junior at Mill Valley High School and is studying here via a federally funded scholarship she received through the Kennedy-Lugar Youth Exchange & Study Program. The program funds a foreign exchange experience for high school students living in countries with high Muslim populations, as well as for students in the United States.
She is one of only two foreign exchange students in the De Soto district, which is a typical amount from year to year, said spokesman Alvie Cater. He said the main reason for the low number is that there are so many young parents in the district, "so it may be difficult for them to host foreign exchange students."
The other foreign exchange student in De Soto, senior Rafael Segura Trujilo, from Mexico, also attends Mill Valley this year.
"It's just gaining a new perspective, looking to the world from a different place," Marinela said. "I just wanted to do this for also personal development. … I just wanted to see if I can do this for myself, because it's not easy."
A new perspective is also what inspired Jonas Martinson to study abroad for a year — though he said he'd been to America for family trips several times before.
"I want to improve my English, meet some new friends and try something new," said Jonas, who is from Sweden.
Plus, he said, his older brother attended SM Northwest as a foreign exchange student six years ago, "so I wanted to come here, too."

Regardless of their actual grade in their own high schools, foreign exchange students in the Shawnee Mission district are enrolled as seniors, Barney said, so that they can take upper-level U.S. history and American literature classes. Additionally, "we want them to experience the senior activities and going to graduation and prom and all those things. … It's both an academic and a social experience for these kids."
Marinela said she likes the school system in Bulgaria better because students stay in one classroom all through their school years — "so it's one group of people; it's like your family because you're always with them."
But having a say in what classes she takes has been a pleasant surprise, she said.
"I like that, because if you know from an earlier age what you want to study in college, you can start and focus on it from ninth grade, which is really good because it gives you a chance to be really good at it," said Marinela, whose classload this year includes college algebra, English, U.S. history and photography. "In Bulgaria, you don't get a choice."

Choosing her own classes has been a highlight for Sylvia, as well, not to mention the living arrangements at the Lindholm residence, where there is a house with a yard.
"In China, we have a large population, so most of the people, they live in apartment and live in the city," Sylvia said. "So it's quite different."
Jonas said one of his favorite parts of studying abroad so far has been trying out and making the soccer team the first week of school. But he also noted his host parents, George and Lisa Skells of Shawnee, who are "helping me a lot," as well as the friendliness of his classmates at SM Northwest.

"Everybody's so nice to talk with, and it's easy to fit in to the daily life," he said.
While the students regularly communicate with their own families — Jonas said he Skypes once a week with his parents back home in Sweden — they are also forming strong relationships with their host families. Those relationships will likely last long after the students fly home when the school year closes, Barney said.
"What I've seen over the years is the relationship that our families build with these kids goes on forever," she said. "Some of these host families will go visit these kids five or six years down the line."
For now, Marinela said, she already feels like a part of the Duden family. And that feeling, Michelle Duden said, is mutual.
"I love her like she was just one of my own kiddos."