Shawnee Town 1929 curator also leading Kansas Museums Association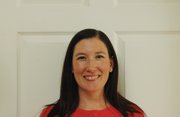 Shannon Hsu has been working at Shawnee Town 1929 since before it was even known as Shawnee Town 1929.
In 1998, while still an undergrad at the University of Missouri-Kansas City, she applied for and got hired as an intern at the historical museum that was then known as Old Shawnee Town. Then in 2001, she was offered a position as curator of collections, an offer, she said, "I couldn't turn down."
Now, she's got another feather in her cap. She recently was elected president of the Kansas Museums Association board of directors.
"It's exciting to be elected and it's nice to know that my colleagues have faith in me and that they think I can lead the organization for them," said Hsu, 36, who was unanimously voted in as president by board members during the association's annual meeting in late October. "And it's nice to develop my leadership skills in that way. It's going to be a great challenge. It's going to be fun to have a different role in the organization."
Hsu said it was her passion for history that led her to pursue a career with museums. She holds two bachelors degrees, history and art history, from UMKC and a master's degree in museum studies from Kansas University.
"I've always wanted to be involved in history; I've always loved history," Hsu said. "I guess I could have done any number of things, but museums were a good fit."
As curator of collections, Hsu manages the museum's collections and also conducts the necessary research involved in transforming the museum to Shawnee Town 1929. She said the city of Shawnee adopted a 2004 strategic plan for the museum that would change its focus from Shawnee as a pioneer town to Shawnee in the 1920s, "a more compelling time for us to interpret."
"It really was the height of the truck farming industry in the area," Hsu said. "We felt that we could tell that story uniquely well and we could tie the stories specifically to Shawnee's history … and talk about what makes Shawnee special."
That's a mission that's still ongoing. Recent additions to the museum include a replicated 1920s farm that will be spotlighted during a grand opening next spring, "but we are definitely a work in progress," Hsu said. "We have a lot more development that we're working towards. It's going to be a dynamic place. It's going to be an exciting place to work and visit. It's going to be really, I think, pretty great."
Having a hand in implementing such a strategic plan is just one reason why Museums Association board members thought Hsu would make a good fit for president, said Lisa Dodson, executive director of the board.
"That's going to be a great benefit to the association," which is now in the process of developing its own strategic plan with a goal of implementing it next year, Dodson said. "Shannon's been very dedicated and she is a strong mentor and she has strong commitment to her profession."
Hsu said she became a member of the association in 2005. She also served as vice president of the board for two years prior to her recent election.
As president, Hsu said, she's looking forward to implementing the association's strategic plan, though she didn't offer specifics of the plan itself.
"We haven't adopted it yet, so it's still a draft that the board is working out," she said. "But we are eager to provide professional development opportunities and networking opportunities to people that are working in Kansas museums."
And as for Shawnee Town 1929, Hsu said she doesn't plan on going anywhere.
"I think I'll be here quite a long time," she said. "There is a great deal of exciting work to be done and it's a unique opportunity in Kansas museums. Very few museums have the opportunity to transform themselves, and it's exciting to be a part of it. I think as long as I get to keep working and as long as I get to continue to be creative and be involved in the process that makes the museum better, I want to be a part of that."