Hockey player's foundation fights pancreatic cancer on the ice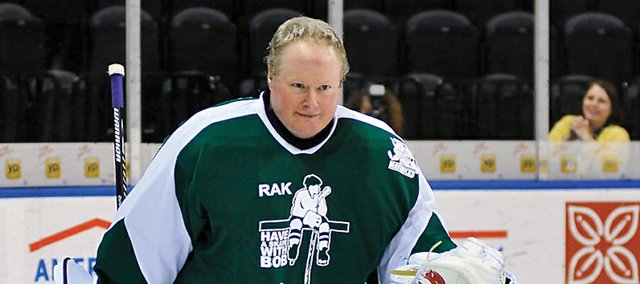 If you regularly attend hockey games at KC Ice Center in Shawnee, there's a good chance you've seen Bob Klem.

The Mission resident, who is originally from Chicago, has been playing hockey at the Shawnee rink on and off since the '90s. And for even longer than that, hockey has been near and dear to Klem's heart.
"I've played for 52 years now," said Klem, who is 58 and plays goaltender for a Shawnee-based adult beer league team called the Red Rockets.
"We are known for our tailgating and barbecuing after games," Klem said. "The important thing at this age is to have fun doing it and to have a great group of guys."
Four years ago, hockey became more than just a hobby for Klem when he started the Have a Skate With Bob Foundation, which organizes benefit hockey games raising funds for the Pancreatic Cancer Action Network. The idea behind the foundation was inspired by Klem's first wife, Becky Klem, who died in 1999 from pancreatic cancer. But Klem said all credit for the push to get it started goes to his oldest daughter, Rachel, 25.
"We need to do something to honor mom," Klem recalled Rachel saying back in 2007. Klem is also the father of 21-year-old Sarah. "Because Becky's biggest fear as she was dying was that the girls would forget her."
In response to his daughter's request, Klem started small.
"I started putting purple tape on my goal sticks," Klem said. "That's the color of pancreatic cancer awareness. And, to me, the puck hitting the purple tape on the stick is telling the cancer we're fighting back."
In November of that year — Pancreatic Cancer Awareness Month — that small gesture grew into a game in which Klem asked friends and coworkers to donate funds based on how he played. And in 2008, inspired by a suggestion from a teammate, Klem started the Have a Skate With Bob Foundation, organizing benefit games where participants would raise a minimum of $200 to play.
The first game was held that year at Line Creek Community Center Ice Arena in Kansas City, Mo. Proceeds totaled $5,000, Klem said.

Since then, Klem said, there have been four more Skate games, raising more than $47,000 for pancreatic cancer research. The foundation throws a funding shout-out to youths, as well, with ticket proceeds going to a youth hockey league or association close to wherever the game is held to fund a scholarship. Most games have been held in the area, but during the last hockey season, Skate teamed up with the Rockford (Ill.) IceHogs, a member of the American Hockey League, for a benefit game on the IceHogs' home turf in Rockford.
"That's where we got our break and we raised $15,000," Klem said.
Have a Skate With Bob also teamed up last season for a game with the Missouri Mavericks, who play in Independence.
Klem said most of the players come from Shawnee-based hockey leagues — and they stick around.
"Typically we have 95 percent of the players that play in our games want to play the next game," he said. "To get in our game, it doesn't matter how good you are. What matters is, you want to fight cancer; you've been touched by it."
Future events include two games back in Rockford, scheduled for Nov. 10. And Klem said he is hoping to schedule a game this season with the Topeka RoadRunners, as well as another game with the Mavericks.

"My goal is to raise the dollars to find the cure for pancreatic cancer, and I believe that hockey players want to give back to the world they're in," Klem said. "It's just our culture. And one of the big things to me is give the players the opportunity" to do that.
"This is my true passion," he added.
Find more details about playing in a Have a Skate With Bob game by going online to haveaskatewithbob.com.