Clow hopes Cougars continue to surprise at state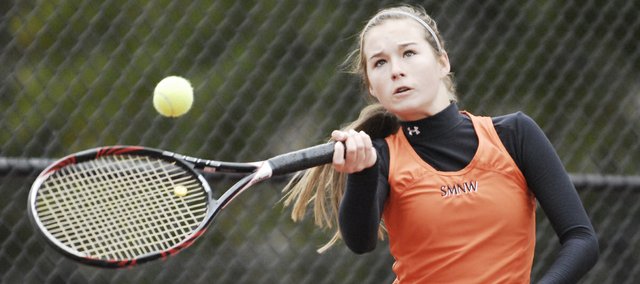 Prairie Village — Both Shawnee Mission Northwest doubles teams emerged from a crowded regional field at Harmon Park on Saturday, advancing to next week's state tournament at the same location.
Coach Ken Clow expected to send No. 1 doubles team Colleen Freeman and Claire Gordon through. But the additional qualification of Lauren Benjamin and Amanda Rebori, after battling through a tiebreaker and upsetting a thorn in SM Northwest's sides, was more than just a pleasant surprise.
"That was a big shock," Clow said.
The two teams went on to place fifth and sixth, respectively, after playing one another in the fifth-place match on Saturday.
Freeman and Gordon earned a 2-0 (6-4, 6-1) victory, but Clow said by that point, knowing each team was state-bound made for a fun match.
"It's really nice," he said, "because our No. 2s played like a No. 1 today. They just played very smart. They might be very tough to beat at state."
Gordon and Freeman downed SM West's No. 2 team (6-1, 6-0) and later rallied down 2-4 to score 10 straight points to put away SM West's No. 1 team (6-4, 6-0).
Benjamin and Rebori defeated Olathe North in the first round in a tiebreaker and surprised Olathe Northwest's No. 1 team — which handed the Cougars' top doubles team a pair of defeats earlier this season — to earn a 2-0 victory (6-2, 6-1).
"We took away what they do well," Clow said of Benjamin's and Rebori's strategy. "We lobbed over them and they completely fell apart."
No. 1 Lexi Drummond didn't advance past Olathe North in the first round, and No. 2 Carley Olsen defeated SM North's Gretchen Burnett in the first round but lost her next two matches to Blue Valley North.
The Cougars will return to Harmon Park, 7727 Delmar, Prairie Village, on Friday and Saturday for the 6A state tournament. But after Saturday's showing, Clow said they earned Monday off from practice.
"I think I need a break, too," he joked.
Maranatha's Siemers fourth in Neodesha
Marantha Christian Academy's Amy Siemers is state-bound after placing fourth on Saturday at the Class 3-2-1A regional tournament in Neodesha. Siemers will compete in the state tournament at the Hutchison Community Tennis Complex, 2101 N. Severence, Hutchinson on Friday.
Read more in the Oct. 10 issue of The Dispatch.