Shawnee city manager lauded for excellence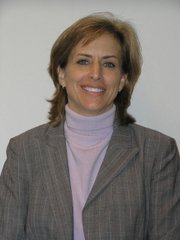 Shawnee City Manager Carol Gonzales was awarded the Edward O. Stene Award for Managerial Excellence on Oct. 7, during the International City Manager's Conference in Phoenix.
This award was presented by Kansas University City Managers and Trainees, the alumni association for the University of Kansas Masters in Public Administration Program. It recognizes individuals who have performed in an exceptional manner in the management of the organization in which they are employed. This may be demonstrated through establishment of a new and innovative program, resolution of a difficult organizational problem or completion of a long-term organizational goal.
According to Shawnee Mayor Jeff Meyers, Gonzales has done all three.
She was nominated for the award by all of Shawnee's department directors for her work to stabilize the city's financial position leading up to and during the recession, her efforts to diversify the city's tax base through economic development, and her commitment to professional local government.
Gonzales has been Shawnee's city manager since December 2005.
The Stene award is named for the man who directed the KU Master's in Public Administration Program from its beginning in 1948 to 1970 and then again from 1973 to 1974. The KU program is one of the oldest and most respected master's in public administration programs in the United States.