Candidates for state board of education agree on evolution, disagree on state funding levels for public schools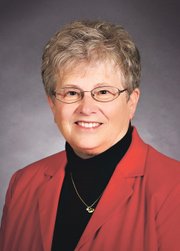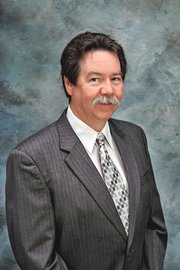 Two area candidates vying for the Kansas State Board of Education District 2 seat both have strong backgrounds in education.
Cindy Neighbor, Democrat, and Steve Roberts, Republican, agreed that they would not support any current proposals for a voucher system whereby the state or taxpayers would fund students' attendance at private or parochial schools. They also agreed that evolution should be taught in schools.
Their opinions differed, however, on other major issues facing public education these days, including the matter of state funding for public schools.
Neighbor, a Shawnee resident now in her 16th year serving on the Shawnee Mission school board, said she was running for the state board because "this is one of the most critical times in our history to maintain the excellent quality of education in Kansas."
"I believe my background would help me in being prepared and (understanding) what the responsibilities of the state board entail," Neighbor said in a questionnaire prepared by The Dispatch.
Roberts, who lives in Overland Park and has been a math and science teacher for about 20 years, lost his bid for a seat on the board in 2008 as an independent candidate. He said he switched parties in 2009 after finding the GOP to be "closer to my values." He's running again, he said, "to fix some of the fundamental flaws that have nagged education for decades."
Some of those flaws, he said, include how teacher evaluations are handled — he believes an evaluation system of "checks and balances" should take the place of tenure — and that legislators are too involved in the education process and are "too willing to pass laws to fix every problem."
"The more we manage our schools locally, the more services we can provide to poor families," Roberts said.
If elected, Neighbor said, her main priorities would be helping to develop new multi-state science standards — they revolve around the evolution theory — "in a very conscientious manner," as well as the Common Core standards, a new approach to learning in Kansas public schools that went into effect this school year.
"These standards will require the partnership of administrators, teachers and other resources in order to have successful programs," Neighbor said.
Roberts said one of his first orders of business would be to gauge "the individual hopes and dreams" of the other board members.
Working together, he said, "was critically important to being an effective board member."
The two disagreed on state funding, with Neighbor saying the current funding level was inadequate to support public education, especially with the increase in enrollment in schools. She allowed that more money was being funneled into specific areas, such as special education and the Kansas Public Employees Retirement System.
"But they're not putting more money into education" as a whole, she said.
Roberts argued that actually, "we are spending a lot of money on schooling," given that the lion's share of the state budget goes to support public education.
On the issue of assessment test scores, which statewide have dropped for the first time in more than 10 years, Neighbor said the lack of state funding was to blame. Additional math and reading support, as well as smaller class sizes, she said, could go a long way toward bringing test scores back up, but "all of these solutions require more funding to pay the needed staff for these services."
Roberts said too much emphasis was placed on test scores to begin with.
"We are going to save a lot more kids — born and unborn — with love than we ever will with legislation," he said.
He also disagreed with separating students into race or income categories, which is done for testing purposes during state assessments. He called the practice "a hindrance to having a colorblind society."
"We have to quit labeling schools as 'mostly minority' or 'mostly poor,'" Roberts said. "We're killing our poorer citizens, particularly in urban areas, with legalized labels for marginalization."
Neighbor said her past experience, which also includes 13 years on Shawnee Mission's advisory board, would allow her to "hit the ground running rather than be brought up to speed." Roberts said, as someone who has experience teaching in public, private and parochial schools, he was "in a unique position" to be able to fully address the current educational challenges.