St. James Academy Roundup, Oct. 17: Football upset, Van Lerberg wins again, volleyball surging to sub-state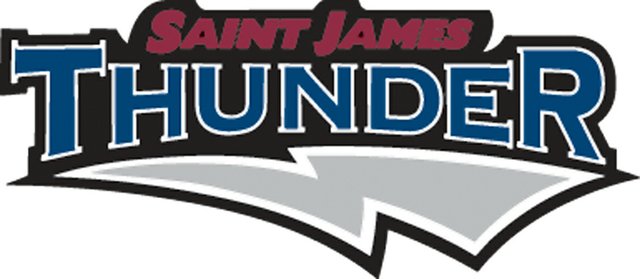 Stay tuned
Visit shawneedispatch.com each week for the latest roundup of St. James Academy sports news and highlights.
Each Friday, The Dispatch also shares live broadcasts of Thunder football and, in the winter, basketball games, courtesy of 810varsity.com.
We are also committed to sharing stories and accomplishments by Shawnee student athletes not only at St. James, but also at De Soto High, St. Thomas Aquinas, Shawnee Mission North and Bishop Miege.
If you know of a Shawnee student athlete with a story to share, write sports editor Stephen Montemayor at smontemayor@theworldco.info, or call 913-962-3000. You can also share stories and updates on Twitter, using the hashtag #ShawneeSports.
Van Lerberg wins sixth race
Shawnee senior Alexa Van Lerberg earned her fifth race victory of the season in the West Platte Invitational on Saturday.
Van Lerberg finished 40 seconds ahead of second place with a time of 20:21, and sophomore teammate Caroline Goode placed third with a time of 21:08. On the boys side, sophomore Nate Hornung placed second with a time of 17:40.
The Thunder will compete in the 5A regional on Saturday at Shawnee Mission Park with the girls race beginning at 9 a.m., followed by the boys at 10 a.m.
Thunder upset in district opener
District play opened with a shocker for St. James Academy football on Thursday. After starting the season 6-0 and being one of the final three 4A football teams left unbeaten, St. James hosted Spring Hill Thursday to kick off a slate of three district games in which the Thunder figured to be heavy favorites.
Try telling the Broncos.
Spring Hill jumped out to a 24-0 halftime lead en route to a 41-12 victory. Spring Hill kept St. James off the board until quarterback Jansen Keyes ran in a three-yard touchdown with 1:37 left in the third quarter. Alex King ran in the Thunder's only other score. Five Thunder players attempted passes on Thursday, but the Broncos limited St. James' passing attack to just 90 total yards. Keyes led with 38 yards, completing 6-of-9 attempts with two interceptions.
Three St. James players rushed for at least 50 yards, led by Jake Bade's 58 yards on 13 carries. But it was Spring Hill that handled the bulk of the running on Thursday, piling up 384 total yards on the ground.
St. James will look to bounce back at 7 p.m. Friday at Bonner Springs.
Dorsey places in Emporia
Abby Dorsey tied for 17th place at the 5A state golf tournament in Emporia on Monday after finishing with a score of 95.
Three first-half goals sink soccer in penultimate regular season match
The Thunder boys soccer team couldn't recover after allowing three first-half goals at Washburn Rural (12-2-1) on Monday. St. James had previously tied the game at 1-1 after Steven Enna finished off a combination by Chris Kohlrus and Spencer Jones.
"The only encouraging thing about tonight is that we were the better team for about 75 minutes of the game," coach Rick Enna said.
The second half became a sloppier affair, Enna said, as the Thunder (7-8) pressed to equalize. Kohlrus was eventually able to send a ball far post to a sliding Peter Gilchrist to send home a second score.
"Outside of our first-half brief periods of sloppiness, our defense tightened and played great in the second half," Enna said. "We show glimpses of being a very dangerous team, as intended, by playoff time. This is our time to shine, but we still harbor an ability to shoot ourselves in the foot."
The Thunder conclude its regular season slate at 2:15 p.m. on Wednesday against K.C. Christian on Field 12 at the Overland Park Soccer Complex.
Two top-10's for tennis at state
In its first appearance in the 5A state tennis tournament, the Thunder earned a pair of top-10 finishes in Topeka on Monday.
Molly Gillcrist and the doubles team of Madison Fangman and Julianne Smith each went 3-3 to finish in the top 10. Hannah Smith also advanced to state after the Thunder won its 5A regional last week. In Topeka, Smith lost her both two matches in state play.
Volleyball surging ahead of first 5A sub-state appearance
St. James Academy senior Emily Tripp of Shawnee led the Thunder with 66 digs in a Saints Invitational tournament victory on Saturday at St. Thomas Aquinas to improve to 31-3.
Freshman setter Jenna Gray, Shawnee, led the Thunder with 137 assists and junior Arianna Person, Shawnee, led with 41 kills and added 50 digs. The Thunder, led at head coach by Shawnee native, Nancy Dorsey, defeated Shawnee Mission East, Liberty, Oak Park, St. Theresa's, Lee Summit West and St. Thomas Aquinas to win the tournament.
St. James will travel to Blue Valley Southwest on Saturday for sub-state, where it will compete against Emporia, Harmon, Turner, Blue Valley Southwest, St. Thomas Aquinas, Shawnee Mission South and Bishop Miege.