Cougars boys soccer shuts out second straight with 3-0 victory against Free State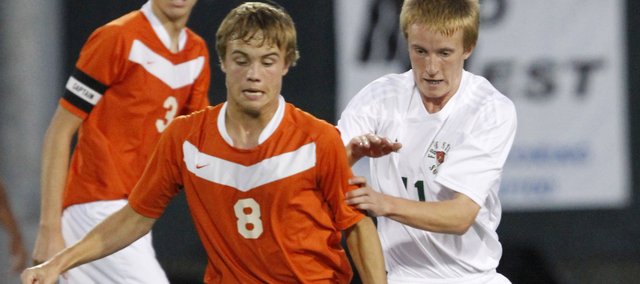 Free State coach Kelly Barah promises that he's going to call up a few places in Lawrence this week in hopes of finding a location where his players can de-stress.
"That's the key thing," Barah said following the Firebirds' 3-0 loss to Shawnee Mission Northwest on Tuesday. "We've had a couple of really tough games and lost a lot of close games so much that we're pressing too hard right now. We just need to get back to having fun."
Many of Free State's players were visibly upset following the Senior night loss, with a few of them hugging teammates after the match while wiping away tears.
"We played our butts off for four years," FSHS senior midfielder Evan Smith said. "It's just kind of tough bringing (the regular season) to an end like that."
The teams were tied going into halftime before Northwest struck early in the second half.
In the 44th minute, the Cougars' Andy Alvey centered it to Junior Agbor, who knocked it into the right side of the net to make it 1-0.
"They got it pretty quick, and I saw some of our heads drop already," Smith said. "We just can't do that."
Three minutes later, Northwest (7-7-2) had its second goal, as Agbor passed to Galen Gossman, who blasted a shot past Free State senior keeper Luke Lesslie.
"The first goal was a great goal. It was good soccer," Lesslie said. "The second one, it was just moving. It was coming at my chest, then the wind got over it and pushed it right below me. That was frustrating."
Northwest's Jonas Martinsson put in the final goal in the 78th minute, as Free State dropped to 6-10.
Smith was most frustrated with his team's offense, as the Firebirds were able to get the ball to the final third often.
"We never did anything with it," Smith said. "We never connected passes. We need to improve on that for postseason."
The Firebirds honored 13 seniors in all during a halftime ceremony.
Barah told his players after the game that no one remembers now what the New York Giants' record was last season; all that people remember is that they are world champions because of their playoff run.
Regional play in 6A begins Tuesday.
"It's not about tonight," Barah said. "I think they still have a whole lot of fight left in them. I need them to believe that."
More like this story