39th District candidates clash on tax cuts, education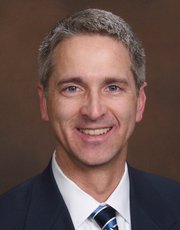 Question: If conservative Republicans are as bad for public education as their opponents contend and the Johnson County electorate is so overwhelmingly pro-education, how are so many local conservatives getting elected to the Kansas Legislature?
Republican Charles Macheers and Democrat Marlys Shulda, the political newcomers running for the vacant 39th District House seat, which represents western Shawnee, have strikingly different answers.
Shulda, who has worked with at-risk youth through positions with the Johnson County Department of Corrections and other agencies, said voters simply haven't yet seen the negative consequences that a conservative Republican governor teamed with a like-minded Legislature will have on education.
"Most voters don't get it," she said. While they've been "living their lives, paying their bills, going to their kids' games," the recession has ushered in an army of "Tea Party Republicans" with a scary collective mindset.
"It's a very simplistic mindset that sees government as evil, that sees taxation as evil, that believes the public education system is severely flawed and tends to believe any form of compromise as politically wrong."
"My primary goal is to be a voice of reason and pragmatism in Topeka as I fight to return education funding to sustainable levels," Shulda said.
Macheers, who owns his own law practice, said the sustainability of all state funding was threatened by the status quo a couple of years ago, when "Kansas was in last place, 50th out of 50 states, in private-sector job growth."
"Growth in the private sector is the key to expanding the tax base and the economic engine behind which our state will prosper," Macheers said.
That's why, if he is elected, he will defend the dramatic income-tax cuts approved by the Legislature last session, while Shulda said she would "strongly support efforts to pare back those tax breaks."
"As it stands," she said, "dramatic cuts to state services are going to be required, with as much as 40 percent of those cuts happening to our schools."
Macheers disputes that assessment. However, he agreed with Gov. Sam Brownback's recent assessment that the state sales tax might have to remain at 6.3 percent for another year, instead of being rolled back to 5.7 percent, to give the tax cuts time to generate their desired effects. One of those effects will be a broader tax base for financing schools, he said.
"I have to say Johnson County is a very Republican county, and that's why our schools are so excellent and so highly rated," Macheers said. "And I think it's very important to remember that the people of the 39th District have voted for the conservative Republican in the last three election cycles, and last summer in the primary, they voted for the conservative Republican in this race."
With a son preparing to enter the public school system next year, Macheers added, "I am not going to let anything happen to take Kansas public education in a backward direction."
Shulda said conservative Republicans including Owen Donahoe, who recruited Macheers to succeed him, have already headed in that direction.
Faced with a large budget surplus that would have allowed restoration of the $400 million cut from education spending during the previous two years, Shulda said, the Legislature last session restored only 10 percent of that amount while giving massive income tax breaks to businesses.
Proponents of the cuts have argued that economic growth will offset the cuts, which are projected to lead to state revenue shortfalls widening to $2.4 billion by 2018. But "in reality," Shulda said, "it would be necessary for every business owner in the state to double their number of employees in order to offset state revenue losses."
Macheers said he believes the revenue gap can be filled through the economic growth the tax cuts will spawn, more efficient state spending, and elimination of tax deductions, exemptions and credits.
"The state of Kansas did not undertake these tax changes because they didn't think it will work," Macheers said. "They think it will work and will work very well."
For precedent, he said, voters can look to the fact that nine of the 10 states with the best performing economies during the recent recession do not collect any income taxes. Macheers said he shares the conservative Republican goal of eventually zeroing out Kansas income taxes, too.
Critics have contended that states that have eliminated income taxes have fared well for other reasons, such as the oil industry in Texas and tourism in Florida. But according to Macheers, the entities that conducted the studies he has reviewed "took out variables like oil and tourism to make apples-to-apples comparisons."
"We have data from other states that have done this before us, so we do have proven results to go by," Macheers said.
He said also had received some "direct evidence right at the doorstep" that the tax cutting plan will work. While campaigning door-to-door recently, Macheers explained, he knocked at the door of a western Shawnee resident who said he was going to move his business, including hundreds of employees, to Kansas "solely based on the new tax policy."
Shulda, however, said the policy threatens to do a lot more harm than good.
The tax cutting bill signed by the governor last session "was so horrifying to moderate Republican senators and Democrats that it was nicknamed 'the nuclear option,'" she said.