District Champs: Mill Valley piles on points in 77-33 victory against Lansing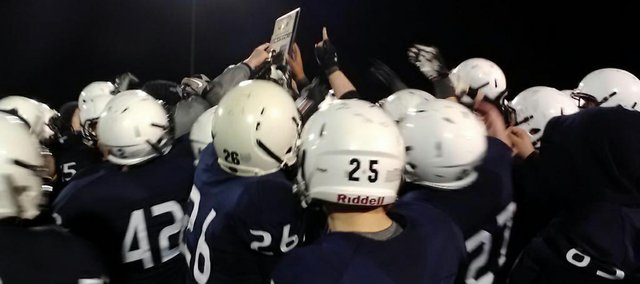 The only thing that stopped Mill Valley on Friday was halftime.
The Jaguars (8-1) scored on 10 of their first 11 drives in a 77-33 victory against Lansing, giving them the District 2 title. During the drive they didn't score on, they ran one play before time ran out in the second quarter.
Senior quarterback Skyler Windmiller threw for 253 yards and five touchdowns on 10-of-16 passing. He also scored one on the ground with an 11-yard run that tied the game at 7-7 in the first quarter.
"The game plan was to come out firing," Windmiller said. "That's what we really set our sights on. We wanted to score 21 in the first quarter."
That's exactly what the Jaguars did. In fact, they scored 21 points in every quarter except the second.
Mill Valley coach Joel Applebee said his team did a good job of adjusting, refocusing and forgetting Lansing's opening drive, which gave the Lions an early 7-0 lead.
"We always talk about next play and we said, 'Next play. That's past us and we can't do anything about it anymore, so we're moving on to the next play,'" Applebee said.
Mill Valley rattled off 28 straight points and 70 of the game's next 84.
The Jaguars let the offense come to them, letting the Lions defense dictate how the offense was run. Applebee said they didn't come into the game saying they were going to run on this down or throw on that down.
"Tonight it worked out that L.J. (Hatch) got some balls and Kendall (Short) got some nice runs, as well," Applebee said. "Skyler played well and our offensive line might have had one of their better games of the year."
The line opened up holes for Short and the rest of the run game, which racked up 373 yards and six touchdowns on 41 carries.
Freshman quarterback Logan Koch, who came in for Windmiller midway through the third quarter, led the Jaguars with 113 yards and three touchdowns on 14 attempts.
Short and Windmiller also went over the century mark, rushing for 108 and 106 yards, respectively. Short scored twice on the ground and once in the air on a 68-yard catch and run that came on a third-and-28.
Short was also quick to give the offensive line praise for the blocking.
"We saw what we saw all week in film," Short said. "We studied enough to know what we're going to do all game. We executed well."
Hatch had a team-high seven receptions for 170 yards and three touchdowns.
The Lions tried to make a game of it after halftime, recovering a pooch kick to start the second half. They scored on the first play of the drive to make it 35-21, but the Jaguars proved too much.
Sophomore Isaiah Young rushed seven times for 46 yards and a touchdown.
Applebee said he just wanted his players to execute, but they ended up scoring the most points in a game this season. That allowed him to rest his starters.
"You always want to get your younger guys in and get them experience, especially in games like this," Applebee said. "A championship game where you can get your twos and threes in is a positive thing."
Senior defensive back Ryan Bath forced one of three fumbles the Jaguars recovered, and he made the lone interception of the game in the third quarter.
Junior linebacker Micah Clarke led Mill Valley with eight tackles, including a key sack, which helped stall Lansing's second drive.
Mill Valley will host Bishop Miege (4-5) at 7 p.m. Friday in the opening round of the playoffs.