50 states, 50 marathons
Shawnee resident completes ambitious goal in Connecticut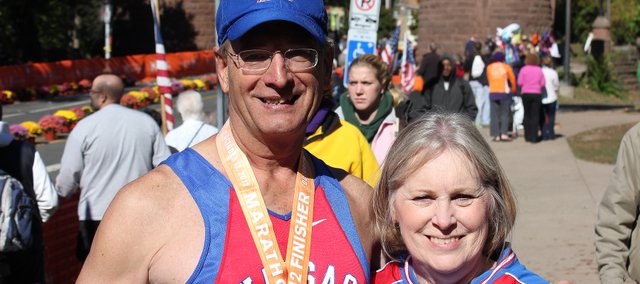 Shawnee resident Rick Mankameyer didn't run his first marathon until June 2000, just a few months shy of his 50th birthday.
But Mankameyer, who will turn 63 on Nov. 8, has now fulfilled his goal of running marathons in all 50 states plus the District of Columbia. He completed the 1,326-mile feat on Oct. 12, when he crossed the finish line of the ING Hartford Marathon in Connecticut with a time of 4:57:46.
"I love to run; I love to travel," Mankameyer said when asked why he'd decided to pursue the 50-state goal.
But, of course, there's a little more to it than that, the longtime Benninghoven Elementary physical education teacher acknowledged.
Mankameyer, who also coaches track and cross-country at Shawnee Mission Northwest High School, was a hurdler in high school in college.
"My race was over in seconds," he said, "so doing a marathon was out of my comfort zone."
But after his son, Brian, and daughter, Keri, left the nest, Mankameyer found himself with more time on his hands and decided to devote some of it toward legging out his first 26-mile run.
Of course, not everyone who decides to run a marathon can accomplish the feat, said Mankameyer, who "kept getting injured because I was running wrong, training wrong." So he decided to train under Eladio Valdez with the Runner's Edge coaching program, and after six months of training, he joined a group of trainees who entered the 2000 Grandma's Marathon in Duluth, Minn.
"I really just planned to do that one," said Mankameyer, whose son and wife, Charlene, cheered him on in Duluth.
But after the event, his son bought him a "marathoner" license plate in honor of his accomplishment. And when a fellow teacher saw it and asked if Mankameyer was, indeed, a marathoner, he realized, "I had to do another one to live up to the license plate."
Fortunately, he added, it's relatively easy to run a marathon "once you've spent six months getting yourself conditioned to stay out there for five hours and 26 miles." So he completed his second marathon in Wichita in September 2000, then decided to run a third in Washington, D.C., in 2002 to afford himself an opportunity to see the nation's capital for the first time.
"My son came and ran the last six miles with me," Mankameyer recalled, "and my wife was ringing her cowbell and cheering me on. She was like a mole — cheering, dropping down (into the Washington, D.C., subway system), then popping up again every two or three miles to cheer me on again."
Charlene Mankameyer, who wears a Kansas T-shirt to the events to promote the family's home state, has become something of a celebrity on the national marathon circuit, cheering all the runners on and serving as a portable aide station when water or other assistance is needed.
But neither of the Mankameyers realized what they were getting themselves into until Rick's fourth marathon in Omaha.
During that event, Mankameyer ended up running alongside a man who was wearing a 50 States Marathon Club T-shirt, which had the names of all the states on the back with a check-mark box next to each. When Mankameyer inquired about the shirt, he learned that he could get one, too, after running marathons in 10 states.
"So my next goal was to run 10 marathons so I could get that cool shirt," he said.
Of course, that's not the only reason Mankameyer kept going.
"You get hooked," he said. "You get to go down to Texas and run right by the Alamo. You get to see the Queen Mary dry-docked at Long Beach. You get to see the fern-draped, beautiful trees in Mobile (Ala.), and the whales breaching on your left in Hawaii with the volcano and palm trees on your right."
Asked which marathon had been his favorite, Mankameyer said, "It's the one I'm doing next."
It's difficult to pick a favorite among the past events, he explained, because one may have featured the best scenery, while others have been the best organized or the most adventurous.
Mankameyer ran his fastest marathon, in four hours, in Delaware. But perhaps his most memorable marathon was the one he finished in six and a half hours on the trails of Otter Creek Park near Fort Knox, Ky.
"I was about 13 miles in when we were hit by a flash flood," he recalled. "The trails became raging rivers, and the runners sometimes had to lock elbows and forge across."
Then there was the 2006 marathon in Philadelphia that he'd just as soon forget.
On the previous weekend, Mankameyer had run a Saturday marathon in Richmond, Va., then finished another on Sunday at Outer Banks, N.C. At that event, he learned some buddies were going to be running the Philadelphia marathon the following Saturday, and Mankameyer, feeling no worse for wear, decided to join them.
But on the night before that event, Mankameyer got food poisoning. As a result, he "had to hit at least 17 porta-potties" during the marathon the next day.
"But I finished," he said.
Mankameyer has finished every marathon he has started, though injuries sometimes delayed progress toward fulfillment of his 50-state goal. He didn't run at all in 2011, for instance, due to a stress fracture and hip flexor problems.
Learning how to avoid and treat running injuries has helped Mankameyer become a better coach for the high school distance runners he works with, he said. But that hasn't been the only positive byproduct of running marathons.
"Once you break a sweat and get into a rhythm, you can think so clearly and creatively, and there's nothing to distract you," he said. "I've solved so many problems, even came up with the idea for my master's thesis while I was running."
Another benefit is "just how amazingly good you feel" running marathons, Mankameyer said. So he plans to keep running them.
"I'm not going to do another cycle of 50 states. But I haven't done Chicago yet or Disney World or the Marine Corps Marathon in Arlington, (Va.)," he said. "I'd also like to do all six or seven marathons in Kansas."