St. James Academy Roundup, Oct. 31: Volleyball wins fifth-straight title, heartbreak for football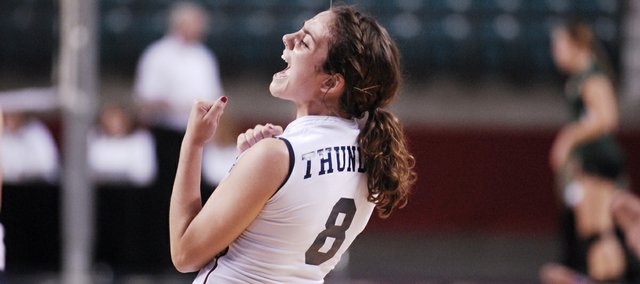 Cross-country
A trio of St. James Academy runners represented the Thunder at Rim Rock Farm in Lawrence on Saturday during the 5A state cross-country championship meet.
Senior Alexa Van Lerberg led the way, placing 36th overall after a finishing with a time of 16:25. Sophomore Caroline Goode wasn't far behind, placing 41st after a time of 16:29.
On the boys side, sophomore Nate Hornung placed 37th with a time of 17:14.
Football
Despite a program-best 6-0 start, St. James Academy football will have to wait another year for a shot at its first trip to the playoffs. How it happened only served to add to the heartbreak.
De Soto put together a 28-point fourth-quarter rally to dash the Thunder's postseason hopes and hand it a 42-28 defeat on Wednesday.
Hearts may be heavy right now, but when this season is reflected on, what will be remembered is the best season yet in St. James football history. St. James finished 7-2 in coach Tom Radke's second season. Against De Soto, senior quarterback Jansen Keyes completed 13-of-26 passes for 200 yards, three touchdowns and an interception. Junior Jake Bade led with 133 rushing yards on 21 carries and one touchdown.
Stay tuned for a forthcoming feature on Keyes in a future issue of The Dispatch.
Boys soccer
In its first foray in 5A regional soccer play, the Thunder defeated Shawnee Mission South last week to advance to the final in a rematch against Bishop Miege.
In a match of the two newest 5A programs, the smallest 5A (St. James) defeated the largest 5A (SM South), 3-1 behind goals from Nick Frank, Steven Enna and Chris Kohlrus.
Miege handed St. James a 4-1 defeat in final on Thursday, a score that proved deceptive.
"If you showed up to the game at any point, you'd say that we were the team with the better run of play and opportunities," St. James coach Rick Enna said. "This was a tough game to lose, but we were beaten by a team that capitalized on its strengths."
After falling behind 1-0, the Thunder (8-9-1) proceeded to control possession for much of the first half, but the Stags' defense proved tough to crack. That trend spilled over into the second half, when the Thunder's crosses and shots failed to find the net.
Steven Enna finally recorded the equalizer on a free kick that deflected into the near post-side netting.
Miege, however, responded with a string of goals in quick succession to build a lead that proved insurmountable.
"I'm very proud of our boys," Enna said. "They left it all out there on the field with class, and worked their butts off, and it showed with an effort that may have resulted differently if some of our shots found the back of the net."
Volleyball
The Thunder won its fifth straight state volleyball championship — and first at the 5A level — winning 10 straight sets between Friday and Saturday at the Kansas Expocentre in Topeka.
After downing Shawnee Heights, Newton and Mill Valley on Friday, the Thunder had its best blocking match of the season on Saturday in the semifinals against Kapaun Mt. Carmel. Behind 11 solo blocks and eight block assists, the Thunder advanced to the finals after a 2-0 (25-10, 25-13) victory. Shawnee Heights upset defending 5A champion Bishop Miege to set up a rematch for the championship.
After a first set that went point-for-point, the Thunder cruised to its latest title with a commanding finish, defeating Shawnee Heights 2-0 (25-19, 25-6).
Junior Brie Lewis led the team with 48 kills and a hitting percentage of .434. Lewis added 22 digs, 13 solo blocks and seven block assists. Fellow junior Arianna Person added 38 kills, 42 digs and six aces.
Senior Emily Tripp, who is featured in this week's issue of The Dispatch, led the Thunder with 53 digs in her final tournament with her teammates. Freshman setter Jenna Gray recorded 124 assists on the weekend. Fellow freshman Audrianna Fitzmorris notched 40 kills with 13 solo blocks and nine block assists. And junior Audrey Wenski rounded out the attack with 20 kills, three aces, five solo blocks and six block assists.
Fitzmorris, Person and Gray were named to the all-tournament team. Thunder coach Nancy Dorsey said she was surprised and disappointed Lewis didn't get a nod after leading the team with kills, hitting percentage and solo blocks. A convincing argument, she added, could have also been made for Tripp.
More like this story