Tripp's turn: Shawnee senior leads latest St. James title run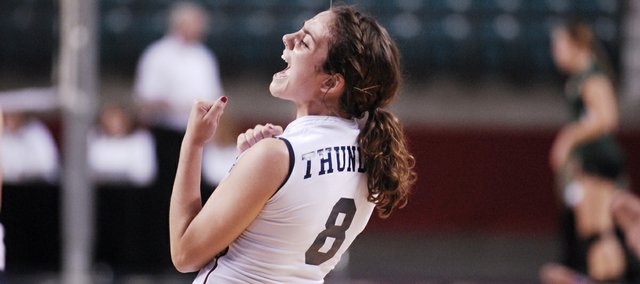 On her third consecutive serve, Emily Tripp took an extra moment to pause, look out across the court and absorb her surroundings.
Tripp's cheeks were visibly flushed red, while her hair and uniform were damp with sweat.
The St. James Academy senior from Shawnee scanned the arena before quickly resuming play. She bounced the volleyball a few times at her feet before putting it on her palm and spinning it, eventually sending it soaring over the net, resulting in yet another point for her team.
The Thunder were in the final set of a match against Shawnee Heights for the Class 5A state volleyball championship at the Topeka Kansas Expocentre Saturday afternoon when Tripp had her moment.
She later explained that her assistant coach Brian Dorsey had advised her to "sit back and enjoy the moment" at some point during the tournament. When Tripp finally decided to adhere to his advice during the championship game, she said, it was worth it.
"It was cool to take a step back and enjoy how lucky I am and look at the crowd, my family and my teammates giving 110 percent," she said. "It was energizing."
Tripp's serves put her team within three points of victory, eventually enabling the Thunder to win the state championship with a 25-6, 25-19 victory against the Thunderbirds.
It was the Thunder's fifth-straight title, their first at 5A and Tripp's second as a varsity player.
After playing a minimal role in St. James' past appearances, Tripp worked her way into the spotlight last year as a junior with a right-place-at-the-right-time kind of scenario.
Thunder coach Nancy Dorsey said Tripp had to "wait her turn" early on, playing behind a strong line of upperclassmen.
"She did a great job (last year) and that gave her the confidence that she can hang," Dorsey said. "Every match, she got better and better."
After patiently waiting her turn, Tripp took control of the libero spot this season as a middle back row player and stepped into a dominant leadership role.
The 5-foot-5 veteran led the team this season with 474 digs — 66 of those occurring during sub-state play.
As her skill set improved and her presence on the court solidified, Tripp was quick to say that she has just played the roles asked of her.
"In our program, any player has as an important role as anyone else," she said. "I've played the role that I needed to contribute, and I know I'm capable of being positive and showing my love for my sport; and for me, that's what I've been carrying through my career."
Tripp first started playing volleyball more than 10 years ago as a third-grader before eventually participating in club volleyball in middle school.
"I have always loved the sport and really enjoyed the team aspect and being a part of the team," Tripp said. "Personal accomplishments are great, but when you have 10 to 13 of your sisters backing you up, you couldn't ask for anything more."
Tripp's parents, Nora and Mike Tripp, initially said to each other that if their daughter didn't enjoy volleyball, they would take her out of it.
"As parents, we were not going to make her feel like we are forcing her," Nora Tripp said. "But Mike and I said to each other that we can see how much she loves it. … It's who she is."
Friends and family started to take notice of the new influences on the impressionable young athlete's life.
She watched her daughter completely transform as a person and athlete throughout the last 10 years with her love of volleyball never faltering.
"We've just watched her develop into this confident and strong player and woman," she said. "Seeing her go from third grade and developing her body and her skill (and) her understanding of the game has been amazing."
Tripp's parents were among the strong contingent of St. James followers over the weekend who watched as the Thunder downed opponents 6-0 during pool play on Friday.
Advancing to the semi-finals against Wichita-Kapaun Mt. Carmel on Saturday, the defending 4A champions displayed their best blocking of the season with 11 solo blocks and eight block assists. Tripp led the team over the weekend with 53 digs.
After advancing to the championship, the Thunder went point for point in the first set against Shawnee Heights but were dominated most of the game because of missed digs and over hits. The Thunder, however, came back and won the first set, 25-19. Crisp playing and solid runs held Heights to only six points in the deciding match.
When the Thunder were accepting their awards on the court Saturday, Nora Tripp said someone sitting next to her commented that the scene was straight out of a movie.
"The girl next to me said, 'This is like a movie, and we just need the credits rolling,'" she said. "Watching that moment come together for (Emily) as a parent, I cried like a baby."
Tripp linked arms with her two fellow seniors after the medals were distributed and walked to the center of the court to receive the class 5A state tournament trophy.
With tears in their eyes, the seniors looked across at each other and whispered, "We did it."
"That was our goal all along," Emily Tripp said. "It was really awesome to turn and look at my best friends, knowing we worked our butts off and we earned this. … Nothing more satisfying."
The surreal experience at center court occurred and evaporated just as quickly for Tripp in a whirlwind of emotions as her high school volleyball career came to a close.
"I've never been more happy to end on such a good note," Tripp said. "The front of our warm-up shirts said: Work Hard, Play Hard. That describes our tournament (in that) we worked hard in practices, we worked hard in games and it resulted in that great victory."
Stay tuned for a feature on another St. James senior from Shawnee, Jansen Keyes, in an upcoming issue of The Dispatch.