Upcoming musicals put strong females front and center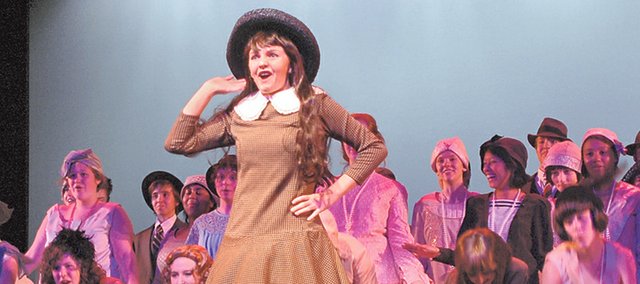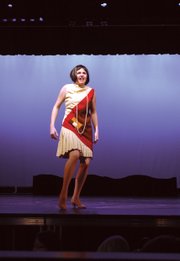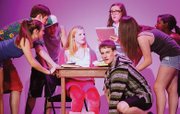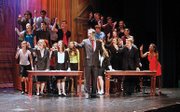 Fall musicals at Shawnee Mission North and Shawnee Mission Northwest will revolve around strong, independent women who go after what they want.
Those are qualities Elizabeth Brooks, a junior at SM Northwest, said she admires the most about the character she plays in "Thoroughly Modern Millie," set to open Thursday.

Millie Dillmount, the musical's protagonist, leaves the safe confines of her Salina home for the more exciting life she craves as a flapper in 1920s New York City. Tearing up her return ticket, she has no plans to go back.
"She's so confident," Elizabeth said. "She's probably a little more gutsy than I am, but as far as the confidence, we're pretty similar. Nothing's going to hold us back."
Another gutsy woman will be the focus in SM North's production of "Legally Blonde The Musical," which will also open Thursday. Director Maureen Davis said she jumped at the chance to do the new musical as soon as it became available for schools last year. But she also chose it because it had a female protagonist, "which, you know, you don't always get," she said.
In the musical, sorority girl Elle Woods' determination to get back together with her ex leads her to apply and get accepted into Harvard Law School, where he is a student.

"I've liked playing her because she's such a bubbly personality and goes for what she wants and doesn't let things stop her," said SM North senior Lauren McDonald.
Davis, who had never worked with Lauren in a play before, said she cast Lauren because of her strong vocal abilities.
"That's number one, is who sings it the best," Davis said.
Lauren said she had been involved with school choirs since the third grade, but had only performed in one musical, "Hairspray," at SM North prior to getting cast in "Legally Blonde."
"It's just been a really awesome growing experience for me as an actor and as a person," she said of the "intense" two months of rehearsal. "I'm really glad that I got to be involved in such a big production."
The cast of 50 also includes senior Joel Steelman, who plays Professor Callahan in the show, a man he described as a "crazy professor, power hungry and superior."
"I really wanted Professor Callahan," said Joel, who's been involved with theater at SM North since his sophomore year. "He's just a fun character. I get to expand my acting bubble and be mean."
The main challenge with "Legally Blonde," said Davis, was its complicated set design.
Keli Rodgers, theater director for SM Northwest, said she has been grappling with fewer cast members than she'd like for a large musical. "Thoroughly Modern Millie" features 37 students.
"I would generally cast 65 or 70" students for a musical, Rodgers said, noting that this year there had been a significant drop in the number of students who auditioned for the show.
Rodgers said students cast in any theatrical production at SM Northwest are also required to help out with set design or some of the other behind-the-scenes aspects. Through the experience, which included six weeks of rehearsal, she hopes her students learned skills such as teamwork and communication, she said.
As for what the audience might take away from "Millie," there isn't necessarily a strong social message to be learned, Rodgers said. But that's OK, said senior Mitch Nolan, who plays Ching Ho, an immigrant from China — a role for which he had to learn a significant amount of Cantonese.
A "carefree" show such as "Millie," Mitch said, is meant to offer a valuable escape for busy audience members "from whatever hustle and bustle you're living."
"Just come to enjoy a night of fun," he said.

Both shows will be staged at 7 p.m. Thursday through Saturday at the school's theatrical auditorium, though "Legally Blonde" includes also includes a 2 p.m. matinee Saturday. Tickets are $10 and can be purchased at the door or online at smntheatre.com and smnwtheatre.com.
More like this story